Use this helpful, fun, and free printable I Spy game to help your children with early reading and spelling practice.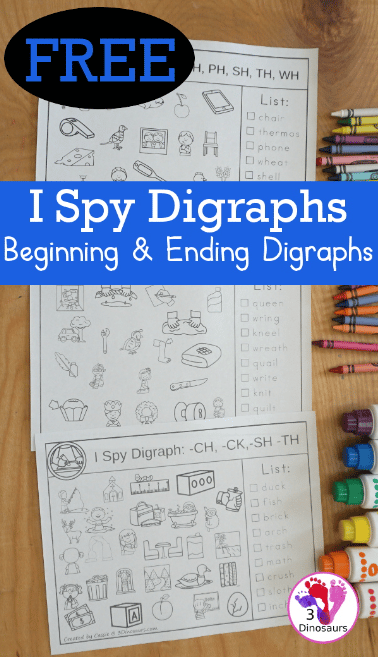 Your children can have fun while they learn too with this wonderful free printable I Spy game for practice reading and spelling skills made for younger students.
This free download and printable I Spy game works by giving your kids a list of easy to read and spell words to find in scattered images of these things. Practice common beginning and ending sound combinations such as SH, TH, CH, and CK.
The pages print out in black and white for your kids to be able to bring out their favorite colored crayons, markers, colored pencils, or whatever else that they have available and want to use with the worksheets.
Each page has nine different words for your kids to be able to find by playing I Spy on the paper. A good way to use these pages is by deciding to color coordinate the sound combinations with their images. Your kids can color all of the words that begin or end with the same sound the same color.
If your kids aren't big fans of coloring, that's fine too! They don't have to color the pages, these printables work for you however you want them too. They can simply circle the images playing I Spy or use stickers too.
Check out these links below for more free printable I Spy games.
The following two tabs change content below.
Latest posts by Isa Fernandez (see all)