These sixteen different I Can statement poster printables are free for you to be able to print out to have to share with your students for teaching them and encouraging them.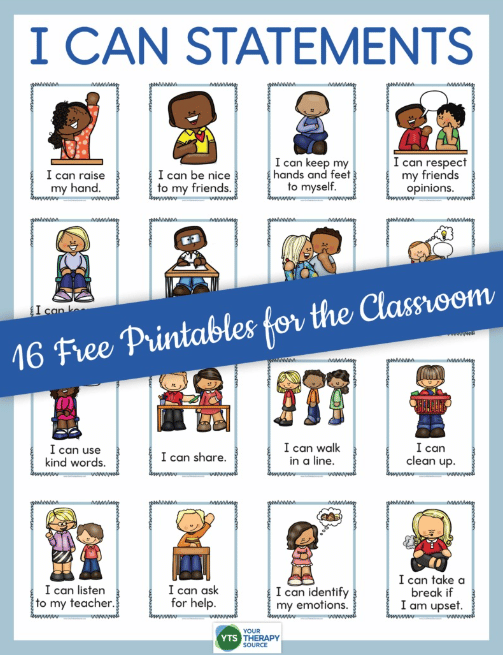 These free printable I Can statement pages are great to use to be able to teach your younger students in a cute, easy, and positive way. These illustrated pages teach your kids to listen, ask for help, share, use kind words, and a ton of other positive and optimistic skills.
These pages are great to be able to print easily and for free to use in a classroom at school full of kids who are all learning together to help keep them behaved and under control. You can also easily use these pages at home for your kids and their siblings and friends for teaching basic good manners and obedience skills.
These pages can also be helpful for your younger students who are beginning to learn how to read or know how to read most things already so that way you can share them with them and go over them together and see if they can read them out loud by themselves.
You can come up with a creative reward system for your kids if there is something on the I Can statement pages that they are currently struggling with. Use the page for reminding them and encouraging them and if they show consistent improvement you can give them a sticker or treat as a reward and acknowledge them for doing better.
Check out these links below for more free printable encouragement recourses.
CLICK HERE for hundreds of free homeschool printables
Be sure to follow the Free Homeschool Printables and Worksheets board on Pinterest.
The following two tabs change content below.
Latest posts by Isa Fernandez (see all)