Take a look at this wonderful free printable honeysuckle flower themed coloring page that you can use for having fun or for adding to your garden study lesson plans.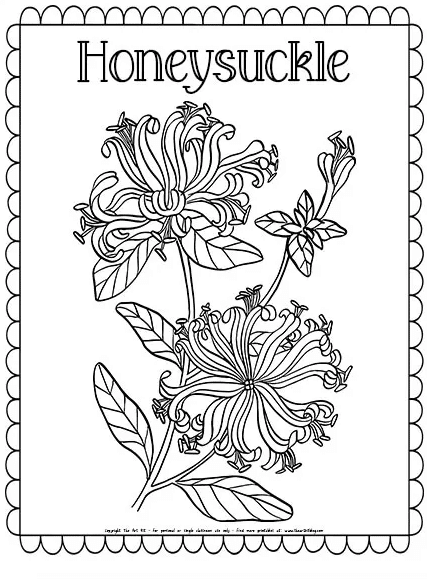 This is the perfect free printable coloring page for your students who absolutely love flowers and gardening or are just beginning to learn about the different kinds of plant names.
It's super easy to be able to click a link, download, print and get to enjoy this free coloring page of a honeysuckle flower either for fun or to be apart of your current study lesson plans for learning about flowers, plants, and gardening.
Enjoy this low preparation required, little to no mess making, free printable coloring page activity either from being in your home, in school, or wherever else that you would like to be able to do it.
All that you will need to be able to enjoy this free printable coloring page download is a printer machine, printer paper, and colored crayons, markers, or colored pencils – whichever you prefer!
Kids of all ages and even adults to can enjoy doing free printable coloring pages. It helps younger students practice following direction and building stronger hand coordination skills. It also helps adults be able to unplug, wind down, and have nice relaxing time.
Check out these links below for more free printable coloring pages.
The following two tabs change content below.
Latest posts by Isa Fernandez (see all)