One of the benefits of being a homeschooling family is that you're not required to stick to any strict schedule. You can organize your days as you please! You don't need to follow the same yearly schedule as a public school, and that's why many families turn to homeschooling!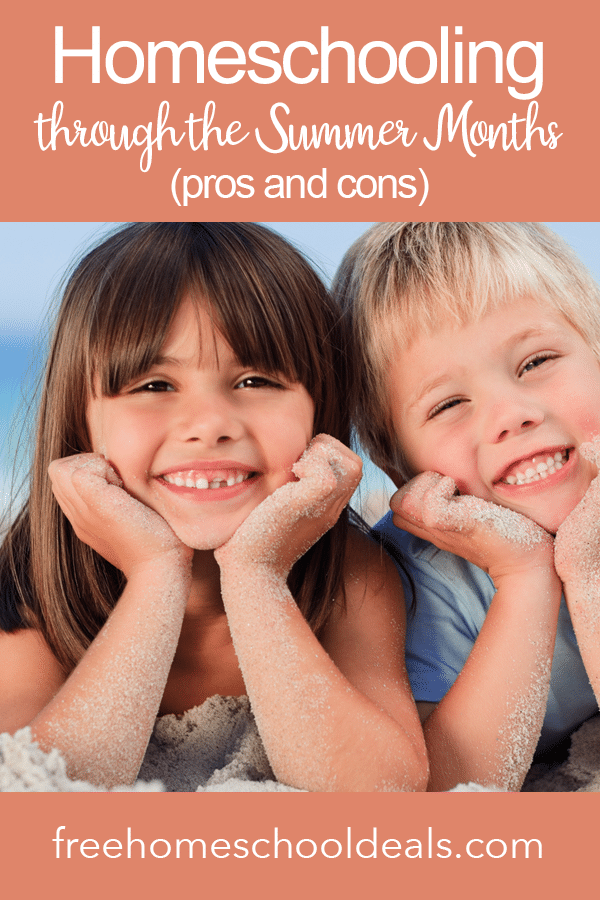 Because of this scheduling freedom, you may consider using the summertime as part of your school year to catch up on some work. Or you might decide to do year-round homeschool. Unsure? Take a look at Homeschooling During the Summer Months (Pros & Cons)!
Pros
Skills will keep building. Some parents and teachers find it tough to return to a school mindset in the fall after a long summer of doing nothing. If you keep school going year-round or just continue learning during the summer, you can easily transition to the next school year without missing a beat!
More holiday freedom. If you're following the public school schedule, then you can only take holidays when they are ones built into the calendar. But, by homeschooling year-round, you have more flexibility to take holidays whenever there is something special going on in your life. And, you can beat those holiday rushes!
Less burnout. This may come as a surprise to you, but if you choose to continue homeschooling over the summer, you may find both you and your children have less burnout.
Most often, schools push, push, push all year long trying to cram everything in, so that they can take a breath in the summer. But, with all year round, you can move at a steady, yet leisurely pace.
Less review time. Once kids come back from the summer, the early fall is spent working on a major review for each of the subjects. But, you won't have to even deal with as much review time since your school time is constantly happening.
Continued structure: Many children, especially younger ones, benefit from a structured day. They get into a routine and feel comfortable with it. It helps build their creativity and keeps them from getting distracted. But, once summer hits, many families push structure to the wayside, and that can cause a lot of issues as time goes on.
More in-depth study. You have more time, and therefore, it follows that you can do more in-depth study. You could finally get some larger projects done with your kids that you've been wanting to do but weren't sure where to squeeze it in. Your child could also really delve into a topic that they enjoy simply because they have more time to do it!
Local programs: Since public school children will be free, there will be tons of activities that your child can get involved in which you can use as part of your lessons!
For example, you could send them on a kids' hiking or birdwatching trip, a book club, and so much more! Add a few extension activities to go with the programs, and voila! You have great lessons for your child all while they're still "doing school".
Cons
Not everyone will agree with you or understand. You might get a lot of backlash or even just annoying questions about why you're doing what you're doing. Your child may feel strange or left out because they're not able to be with their friends in the summer as much.
Missing out. Because you will still be busy learning and working over the summer, your child might miss out on things that are so quintessentially summer. Think beach vacations, etc. Many of their friends may be enjoying a nice, long relaxing summer, but they'll still be "in school".
Not as much networking available. Since many other homeschoolers do not keep working over the summer, it may be difficult to continue with any homeschool co-op you might have been using during the year. You might also find it tougher to network with other homeschooling families about summer schooling.
Related websites and resources
5 Good Reasons to Homeschool Year-Round – Free Homeschool Deals
Year-Round Homeschooling Teacher's Planner – Year Round Homeschooling
All About Summer (Home) School – ThoughtCo
Should You Homeschool Through the Summer? – Family Education
Why we homeschool year-round (yes, even in the summer!) – Life Your Way
Homeschooling in the Summer – Rosetta Stone Homeschool
4 Ways to Do Summer Homeschooling – Bridgeway Academy
How I Do Year-Round Homeschooling – Time 4 Learning
Suggested books
Summer Versus School: The Possibilities of the Year-Round School by James Pedersen
Year-Round Education: Change and Choice for Schools and Teachers by Shelly Gismondi Haser and Ilham Nasser
Year-Round Schools by Adriane Ruggiero
The following two tabs change content below.
Keri
Keri is a former elementary and middle school teacher who's worked overseas for 4 years. She loves to write and so decided to pursue her writing dream!