This is a post from Kirsten Joy Torrado.
This year we are finding our freedom as a homeschooling family and taking our conventional school schedule out of the box.
Last year we started out on a typical school schedule, mostly because it's the only thing I've ever known: 9am to 3pm, holiday breaks, and summers off.  But, by the end of the year we adapted our schedule to an 8 weeks on, 1 week off format, and I'm so glad we did.
The truth is that school can look like whatever you want it to look like when you teach at home.  There are a lot of good reasons to hand craft your own school schedule but, for me, these are just a few of the factors that motivated me to opt for schooling year-round.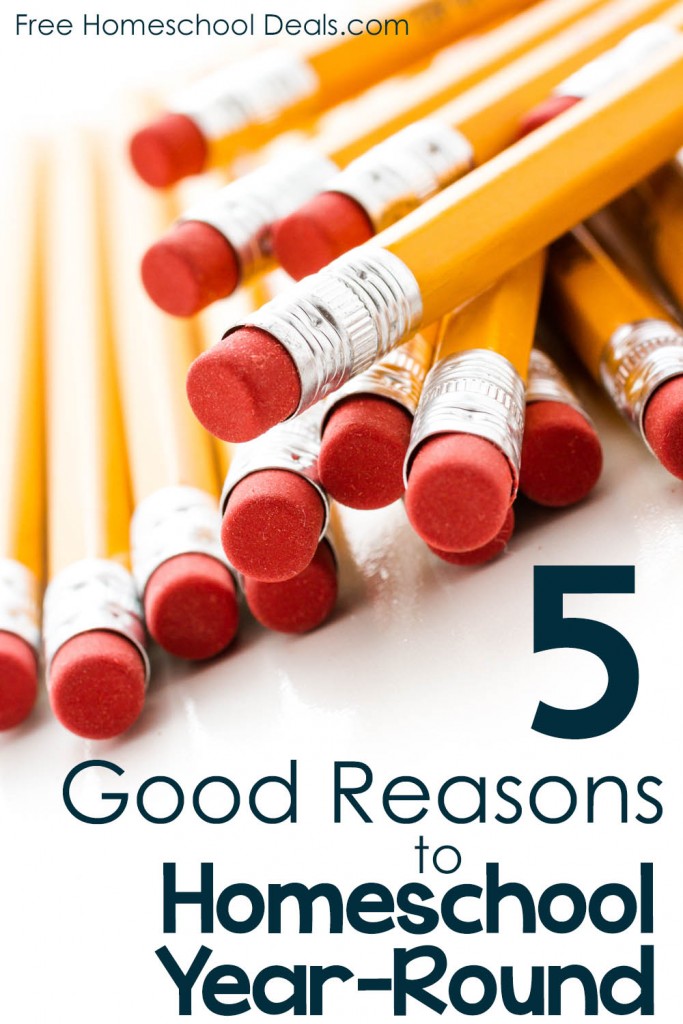 It keeps me from burning out.
This year we will be doing a 6 weeks on, one week off rotation.  I noticed that somewhere around week 8, I begin to feel the tinges of burnout and end up in a vegetative state for 48 hours or so.
Come to find out, I function better with frequent short breaks.  It's better for my mental health and well-being and keeps me fresh for the long haul.
No matter when we begin, there is always a break in sight.  Doing school in shorter bursts is also great for the kids, especially when it comes to tackling new content and challenging subjects.  They can take a break and come back to it with renewed energy to give it another go.
I found out this year that kids can burn out too, and sometimes they need a break just as bad as Mommy does.
Flexibility.
I don't have to worry about fitting in the minimum requirement of school days, because with schooling year-round, we have well surpassed the 180 days that most states require.
In fact, I am able to fit in almost 5 additional weeks to the traditional school-year calendar. That's 41 weeks of learning.
It gives us plenty of time for tangents, trips, and an adapted pace for trouble areas if needed.
There is plenty of wiggle space for whatever "else" I need to work around or fit in.
It works well around holidays.
With all that extra school time we can take longer holiday breaks for Christmas and Easter without feeling guilty.
I love that we can forego a typical school schedule at Christmas time and spend our days with family, go to parties with friends, decorate trees, bake cookies, make hand-made presents, and allow time for travel.
Taking time off from the academics allows us to slow down and savor the joy of the season.  No mom should have to do it all at holiday time.  Schooling year-round allows me to flex one area of our lives to make space for another.
Ebb and flow are actually healthy rhythms to create in a family and schooling year-round allows us to do that.
Summer breaks are shorter so the kids don't lose everything they just learned.
In most curricula, especially in math, the first chapters are simply review of last year's material.
With a shorter summer break,  I can just pick up right where we left off without time wasting review.
This year we will begin the second week of August and end in June.  We'll have an extended summer break in July-August that is 6 weeks long.  It's just long enough to feel like vacation and not long enough to feel like chaos without end.
Continuity.
Summer break without end can lean toward chaos very quickly.  If not chaos, then unending hours of video games and Netflix are the only thing that seem to plug the hole.
With 6 weeks off in the summer we all get a much needed break from routine without losing it entirely for 3 months of our lives. I have found that my kids thrive on routine.  And though we may not include a full array of subjects in the summer months, an abbreviated version works well to keep everyone busy and the screen time in check.
This is what works for us, and for every family, it's different.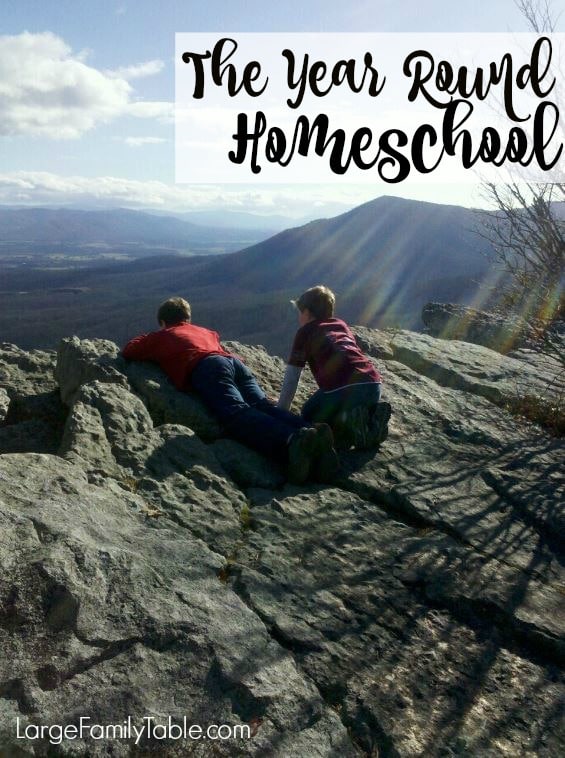 Read more about The Year Round Homeschool here.
Which brings me to the question of the day: What does your homeschool schedule look like?  Do you homeschool year-round?  What works for you? 
Read more featured articles at Free Homeschool Deals!
The following two tabs change content below.
We are here to help families afford the homeschool life by providing the BEST homeschool freebies, deals, resources we can find & encouragement as we walk this journey together!
Latest posts by Free Homeschool Deals (see all)