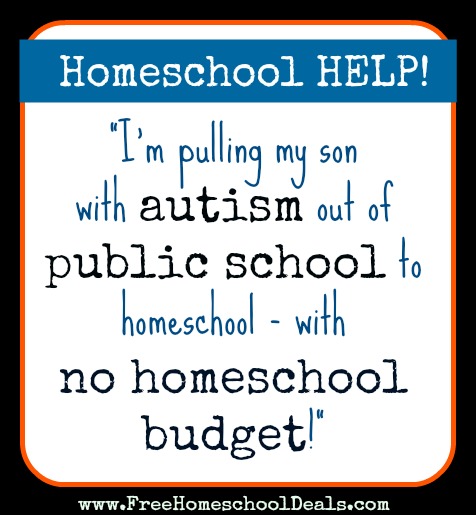 A reader asked a question on my Holy Spirit-led Homeschooling Facebook page.
To summarize this homeschooling mother was pulling her son with autism out of public school to homeschool. They are also a military family with no additional homeschooling budget. 
This family needs free resources and recommendations to help them make this transition.
Here is a helpful list of free resources, answers, and kind thoughts to help other families in similar situations – from readers.

"This site has free resources/curriculum for each grade level. She could easily mix and match dependent on where her son is. It wouldn't provide everything she needs, but it would get her started: All in One Homeschool." ~ Emily


"The library. And ask the local school for their discard books. They are always throwing books out. Or ask to borrow books from his class until she finds something. If he's had some traumatic experiences though, I'd just go to the library for a month or so. Check out lots of books to read together, snuggled up on the couch and let him help you cook and clean. All good learning experiences. Formal curriculum can come later." ~ Emilie

"ABC Teach! They even have a SPECIAL NEEDS section that I use for My own son with autism!" ~ Megan

"I would suggest they try  the Book Samaritan first. She can request anything from just K or 1st grade curriculum, or be specific and request certain books from Horizons, Abeka, etc, or say she needs curriculum for a hands on approach. They are great at getting things out to people and it's totally FREE!!!" ~ Alexandra

"First, let him deschool & decompress for the holidays. Second, read, read, and read some more. Third,  Ambleside Online has a completely free curriculum . I find most of the books at my library. It has been amazing for my son with autism, who we withdrew my public school in 2nd grade. Check out my page, Our Crazy Adventures in Autismland." ~ Penny

"Schoolhouseteachers.com offers a free year long membership to military homeschool families." ~ Carrisa

"I am starting homeschooling my autistic son next year, he will be in second grade. I have been reading "Homeschooling the Child with Autism: Answers to the Top Questions Parents and Professionals Ask". I have not homeschooled previously, so don't have experience, and have not finished the book, but am enjoying it so far and I think it is a great resource. It starts out with how homeschooling can be beneficial for autistic children, which gives you good points for those who disagree. It also has lots of links to supports, games, etc., although it was written in 2009. Here is a link to the book on Amazon.com: Homeschooling the Child with Autism: Answers to the Top Questions Parents and Professionals Ask (Jossey-Bass Teacher)"   ~Chandra

"HSLDA foundation (The Homeschool Foundation) is having enrollment for hardship and military families." Caira

"I agree – decompress and start fresh in Jan. We also have autism/delays compounding. We are doing ala carte curriculum (K level) and it is working better than a set program – he is stronger in maths so working ahead but can go slower with language. We do math(Progress in Mathematics), phonics (Explore/Explode the Code), story journal, Discipleland Bible Heroes as our "core" and add activities as we go (holiday themes, just for fun, etc) and as attention holds." ~ Meg

"Schoolhouseteachers.com offers a free year long membership to military homeschool families."


"Homeschoolshare.com has a lot of free resources, lap books, hands on activities to go with many topics & books." Paula

Additional helpful sites shared by readers:

LearningPage.com

Literactive

Progressive Phonics

The Ultimate Guide to Autism Home Therapy

Ten Reasons My Child with Autism Loves Homeschool

How We Taught Our Child with Autism to Write

Homeschooling Your Struggling Learner

Homeschooling Special Needs Children

If you have recommendations or additional kind thoughts please leave those in the comments below.
The following two tabs change content below.
We are here to help families afford the homeschool life by providing the BEST homeschool freebies, deals, resources we can find & encouragement as we walk this journey together!
Latest posts by Free Homeschool Deals (see all)