You can get your kids excited about doing math with these free printable Halloween themed multiplication worksheets that are great and easy to use.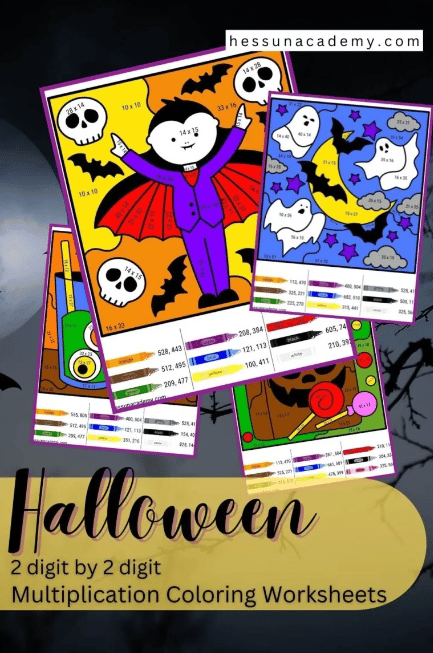 Learn and practice doing double digit multiplication problems with these easy, fun, and free printable Halloween themed multiplication worksheets that are just perfect for your students in elementary grades to be able to do.
When you can make learning new hard things and doing school fun for your kids you both win! Kids tend to remember more of what they learn when they are engaged and having a fun time learning.
Easily download and print out these wonderful to use, free printable Halloween themed multiplication worksheet pages and you can add them to your children's current study lesson plans either for teaching them from while being in the comfort of your own home, or teaching a classroom full of kids who are all learning together at the same time.
In addition to learning and practicing double digit multiplication problems, your kids can have fun getting to color these Halloween themed multiplication pages too by following easy instructions.
Enjoy these wonderful fun and free printable Halloween double digit multiplication and coloring pages that are so easy to use, free to print, and require very little effort to put together and mess free.
Check out these links below for more free printable multiplication worksheets.
The following two tabs change content below.
Latest posts by Isa Fernandez (see all)