This is a post from Kirsten Joy Torrado.
"Successful people are those with successful habits." -Brian Tracey
Imagine you and I are sitting fireside in a Panera enjoying a cup of hazelnut coffee, and we begin talking about our lives and the kind of habits that form a healthy homeschool.
We, like most homeschool moms, would probably talk about developing a routine, choosing curriculum, or making a schedule. We might even get into the specifics of lesson planning and being aware of our child's approach to learning.
But, for the purpose of a broader conversation, I want to take a different direction today.
You see, like a lot of homeschool moms, I sometimes have the tendency to get so engrossed in the specifics of our schooling that I forget that our academics are part of a much larger ecosystem called the Family.
I know this philosophically, but, it's so easy to get tunnel vision when you're homeschooling.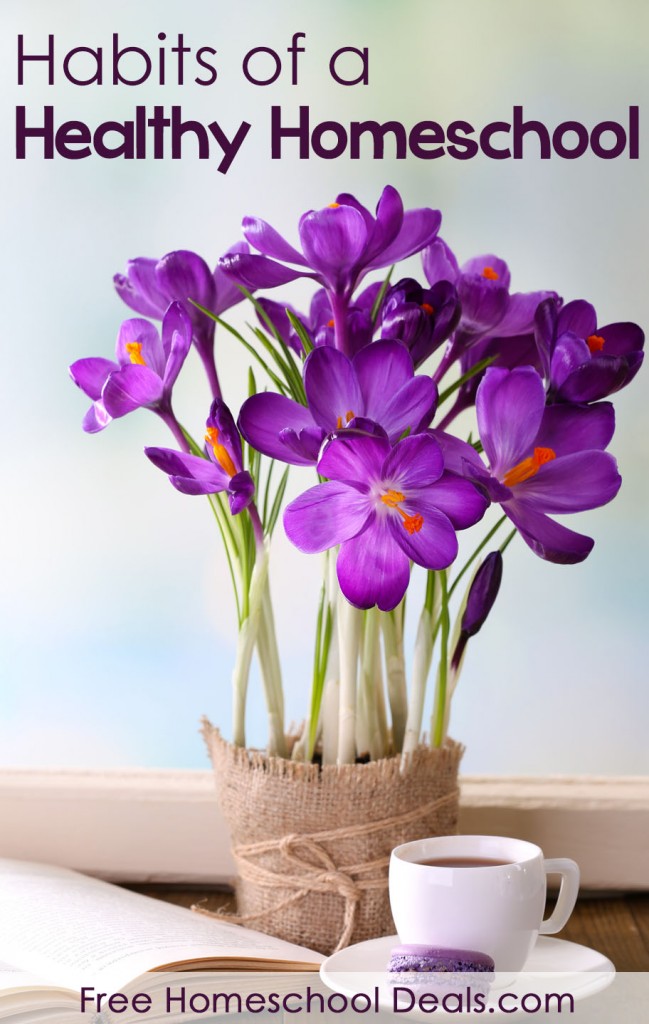 Your Life as a Homeschool Mom
Teaching our children at home is such an incredible responsibility, and wanting to do it well, many homeschool moms tend to absorb ourselves in the task to the point of disappearing from reality.  Can you relate to what I'm talking about?
The only thing you talk about when your husband walks in the door is what the kids did, and this new curriculum, and what that expert said.
Guilty.
Not that those things are bad, and my husband gleams when he hears my passion for it.  But, if not for anyone else's sake but my own, I've got to pull out of the trenches on occasion to keep proper perspective and a healthy life balance.
Zoom out the lens and you'll see that your Homeschool Life is a very small habitat in a much larger ecosystem:  Your Life.
Creating habits for a healthy homeschool has everything to do with creating habits for a healthy life. When you keep the main things the main things in your life the smaller piece, which is homeschooling, will fall right into place.
Below I've listed a few of my own personal habits that will help keep you and your homeschool healthy throughout the year.
1. Support your Body.
For me, this includes regular sleeping, eating, and exercising.
As a writer, it's so hard to not burn the midnight oil.  But, if I don't get myself to bed at a decent hour, I am good for nothing the next day.
And no, caffeine doesn't replace sleep!
Personally, I need a solid 7 hours (or more) to feel refreshed when I wake up.  I've got to drink plenty of water, watch the carbs, and get myself moving at some point during the day.  I've found that something as simple as a 10 minute walk around the block is enough to clear my head and get the blood moving.
2. Support Your Soul.
Keep what you love in your life.
This includes things like music, movies, time with friends, connecting with family, or reading a good book.
As for me, I love to knit.  Somewhere between knit and purl I feel the stress and tension of a long day melt away.
Or sometimes it's just getting lost in the plotline of a great novel.
Either way, you've got to find a way to decompress and make space for enjoyable activity in your life.  Feed your soul with beauty and do what makes you  come alive.
3. Support Your Spirit.
Make intentional time for prayer and mediation.  This is a morning ritual for me.
6 am, a cup of tea, the absolute quiet, scripture, and my journal. This is when I hear God speak to me.
Having the perspective of my Heavenly Father on my life keeps me centered and at peace.  If I find that place of rest first thing, my day goes so much smoother.
4. Support Your Finances.
Stay Debt Free.
Making good financial decisions and spending within your means will reduce your stress and keep you financially free.
This means avoiding credit cards at all costs, not even for homeschool curriculum.  Just don't do it.
If you need free resources for homeschool, browse Free Homeschool Deals. You'll find a boat load of great ones.
Meal Planning has really helped me keep our food budget where it needs to be.
Having an overall financial plan is so crucial, especially when most homeschooling families live on one income.
5. Support Your Marriage.
Keep love alive!  I should have put this one first, but I'll save the best for last.
The entire ecosystem of your home hinges on the environment of your marriage.   Remember above being a mother, teacher, sister, friend, that you are a wife.
He needs you.  And you need him.
A good way to focus on your relationship when he first walks in the door (or vice versa) is a rule called 5 for 5.
Move within 5 feet of the other person and listen about their day for just 5 minutes.  You'll find when you take the time to listen, it goes a long way toward nurturing your acceptance of the other person and making them feel loved.
Read more featured articles at Free Homeschool Deals!
The following two tabs change content below.
We are here to help families afford the homeschool life by providing the BEST homeschool freebies, deals, resources we can find & encouragement as we walk this journey together!
Latest posts by Free Homeschool Deals (see all)