Help your students understand and practice grammar exercises with these free to print copy work pages to include in your current study lesson plans in school this year. This is the perfect learning activity exercise for your students who are currently in elementary grades this year in school.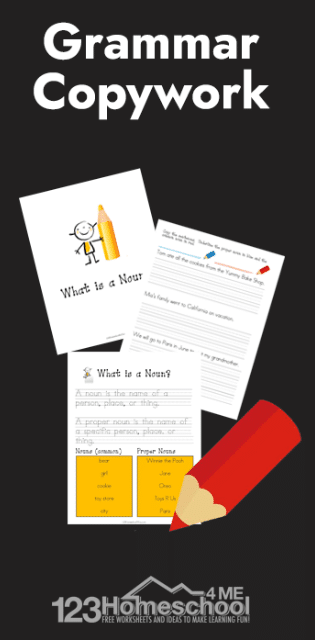 There are several different worksheets included in with this fun and free to print pack of grammar copy work pages. Help your students with the clear definitions of what nouns are verses verbs and adjectives are so they don't get easily confused.
Copy work in general helps students with lots of things like building strong penmanship skills, bettering one's vocabulary, and reading comprehension skills. Copy work also forces students to pay close attention to spelling and capitalization. These unique study worksheet pages combine doing copy work with studying grammar facts so your students can work on both at the same time.
These worksheets are super easy to download and follow directions to use. Make learning easier for your students whether you prefer teaching your kids from while being in the comfort and privacy of your own home, or if you're a teacher in charge of a larger classroom full of students who are all learning at the same time.
Check out these links below for more free printable grammar pages.
The following two tabs change content below.
Latest posts by Isa Fernandez (see all)