Gain More Hours in Your Homeschool Day by Using Lunchboxes
This post is from contributor, Sherry Hayes.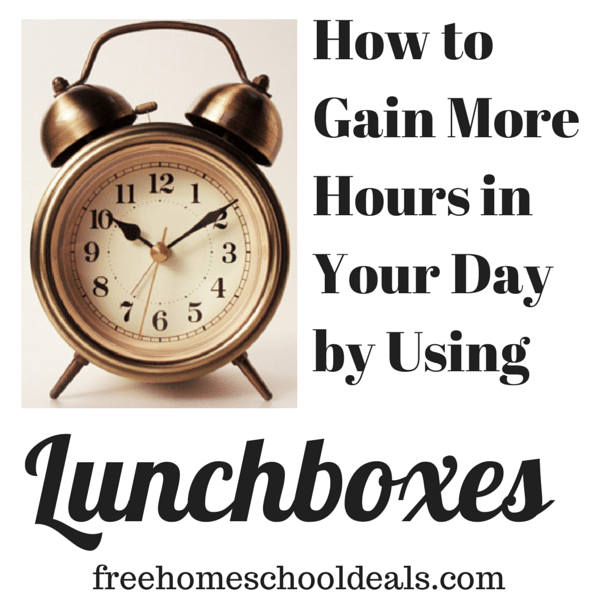 We homeschoolers have amazing challenges, especially if we have numerous children at different learning levels.
Being the mother of 15 children, I sometimes wish there was a 48-hour day, or that I had eight arms and legs (and eyes in the back of my head).
Since I don't, I try to look for ways to lessen my work load and save time.
This is why I LOVE lunchboxes!
I know they are supposed to be for kids who go out of the house to school each day, but to us they are cheap, wonderful convenience food! We have a stack of plastic storage containers with partitions in our cupboard (in a few different shapes and sizes which I have collected over the years–Rubbermaid sells some pretty cheaply that seem to last well here) which we fill with all sorts of goodies the night before for the next day's lunch.
This means that we don't have to stop all of the wonderful learning we are doing for cooking, cleaning and "crowd control." We simply grab a box and a drink, and eat up! Besides a little bit of general clean-up and the washing of the lunchboxes themselves, there is little to no interruptive work involved in the middle of our day.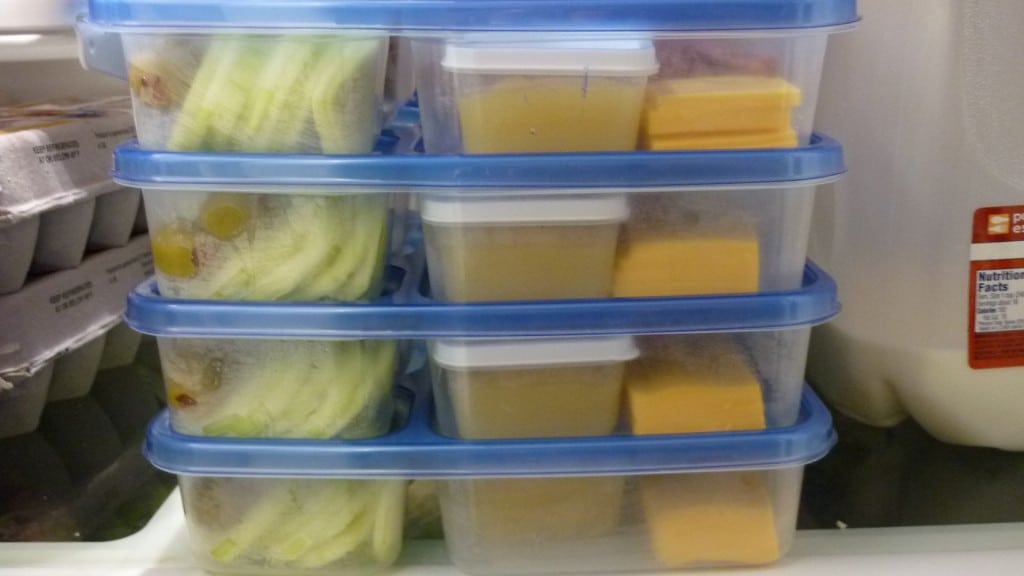 When putting these lunchboxes together, it is good to have some "themes"
Lunchables–lunch meat slices, sliced cheese, crackers, and sides
Dips–pretzels, crackers or chips, and veggies dipped in all sorts of sauces with sides
Chicken/tuna salad–with crackers to make "sandwiches" and sides
Nachos–package some corn chips and put some cheese sauce on "warm" on the stove top
Graham crackers and milk–package up some crackers, peanut butter, and have water on the stove top to pour into one of those "instant lunches" soup cups. Offer milk as the beverage (we usually drink water with lunch)
Austin cheese crackers and apples, perhaps add in some good leftovers or other sides
Pasta salad–use any cooked, shaped pasta, mix with ranch dressing, and then add anything that your kids will tolerate, such as relish, celery, black olives. Use some crackers, etc. as one of the sides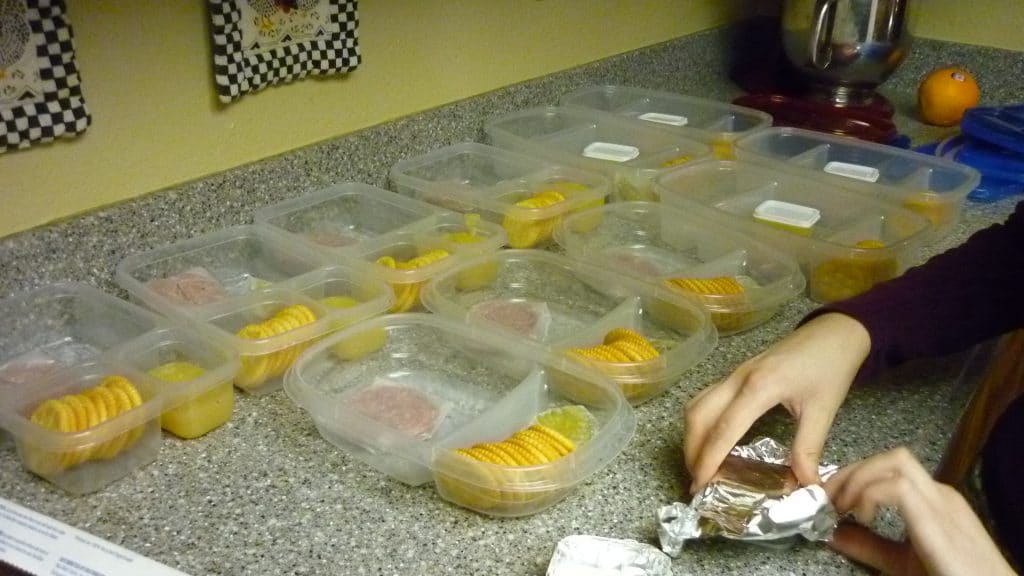 Here are some lunchbox side ideas:
Celery, cucumbers, broccoli, sweet peppers, etc.
Orange slices, bananas, apples, grapes etc.
Fruit chewy treats (watch for these on sale, and only for special occasions)
Homemade cookies and other bars
Peanuts (cheap, good protein)
Stick of sugarless bubble gum (this one will be a great hit!)
Remember, only a small amount of a side has to be offered, and most of these can be bought in bulk so they are not as costly. For instance, a #10 can of pineapple tidbits at our Sam's Club is less than $4, and a box of 45 packages of peanuts is only $8! A colossal jar of pickles is under $4, and the corn chips are a great buy.
This is also a marvelous answer for those who are dealing with food allergies and special diets.
You can obtain some inspiration by doing a Google search for "lunchbox ideas" (be forewarned, some of the ideas are pretty outrageous–we keep ours simple and sweet).
What sorts of lunchbox themes and sides can you think of?
The following two tabs change content below.
Sherry K. Hayes
loves the Lord Jesus Christ, her husband, and all of their 15 children! She has been homeschooling for more than 25 years, has seen the "graduation" of eight of her children, and continues to enjoy the remaining 7 as they live and love together at the foot of the Rocky Mountains in scenic Colorado. You can read more about her family and her children on her blog,
Large Family Mothering
.
Latest posts by Sherry Hayes (see all)