This is a guest post from my dear friend, Jimmie.   This article is also featured in my new eBook  Homeschooling for Free & Frugal; which you can receive for…you guessed it – free.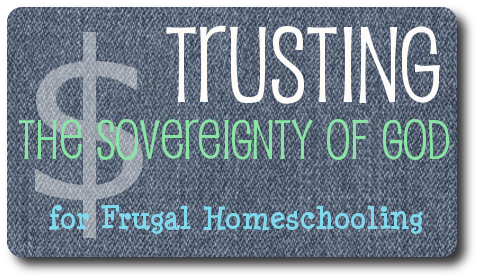 Trusting the Sovereignty of God for Frugal Homeschooling
Is God in control of everything? I know you're thinking, "Yes, God is omnipotent." But do you really believe that God is totally sovereign over every detail of your life? Is He sovereign over your homeschool and the materials you have to teach your children?
Of course, the right answer is yes, but sometimes our actions prove that our faith is lacking.
For example, evaluate your contentment. Are you content with what you have to teach your children? Do homeschool catalogs send you into a depression of self-pity as you see all the great books and DVDs that you just can't afford? Are homeschool conventions a major exercise in temptation as you pine for expensive all-in-one programs that are financially out of your reach?
Do you ever use your lack of financial resources as an excuse for your homeschool?
If only I had more money, my children would have fewer gaps in their education.
If only I had a more expensive curriculum, my child wouldn't struggle with math facts.
If only I could buy new instead of using hand-me-downs, my children would have a greater passion for learning.
The reality is that every child has gaps, most children struggle with some element of math, and all kids have days they don't want to do homeschool.
God has placed you in the exact situation that you are in. If you are forced to be a frugal homeschooler because money is tight, He is putting you in a perfect place to learn to trust His provision.
Over the years, I have learned that trusting the sovereignty of God makes me a far more frugal homeschooler. That assurance expresses itself in three main ways.
1. Shop your shelves instead of catalogs
Although there are plenty of bookmarked pages in my stack of homeschool catalogs, I know that I have plenty on my shelves already. Some materials I bought with great intentions still haven't been used. I have random books bought at library sales or thrift stores that we've never read. I have board games and card games that we rarely play.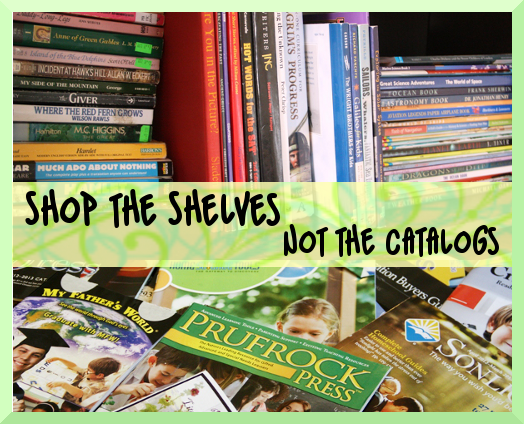 The reality is that I am blessed beyond measure with abundant homeschool curriculum if only I will open my eyes to see it. So when I start feeling sorry for myself that I can't afford this or that, I spend some time organizing my bookshelves. I always find materials I had forgotten about — books that I can use at the basis of a new unit study.
2. Express gratitude instead of discontent
Whenever discontent raises its ugly head, ward it off with gratitude. Don't just stifle the complaint. That's not enough. Replace it with rejoicing.
I have a library card in my wallet that is a gateway to endless free resources.
I have a healthy child with a bright mind and special giftings.
I have an Internet connection that delivers instructional videos and teaching ideas.
I have a printer that can create reams of free printables.
I have time to develop my relationship with my daughter instead of rushing off to work.
Each one of these affirmations directs my soul back to the amazing provision of God, and I can't entertain an ungrateful heart any longer.
3. Keep your eyes open to opportunity
When I see a great book bargain at a thrift store, I snatch it up. I know that God led me to that store on that day to find that particular title. I know that He will use it in my daughter's education. It doesn't matter if it doesn't fit my planned course of study. It is a resource that God will probably use on one of my "shelf shopping" sprees.
I stay on the alert for free museum passes and discounted theater tickets, seeing them as a gift from the Lord to help me teach my daughter. I look for extracurricular activities that are low cost or free — things like church activities or 4H. When I hear of an expensive summer camp my child would love, I don't bemoan the cost. Instead, I pray and apply for a scholarship, trusting the Lord to provide if it is his will or close the door if it is not.
The bedrock foundation of our frugal homeschool is that God is sovereign. He will provide in His way and in His time. Paul said, "I know what it is to be in need, and I know what it is to have plenty. I have learned the secret of being content in any and every situation, whether well fed or hungry, whether living in plenty or in want." (Philippians 4:12, NIV) If Paul were a homeschool mother he may have added "whether I have plenty of money for curriculum or hardly any."
By trusting the sovereignty of God, I can be thankful and content– without guilt– during both times. I can assure you that He has always provided a wealth of learning opportunities for my child. And He will do the same for your children. Trust Him.
Jimmie Lanley is the mother of one creative teenaged daughter. Living abroad in China necessitated the original choice to homeschool. But now that she and her family are back in Tennessee, Jimmie can't imagine any other way to educate her middle schooler. Jimmie's Collage is where she blogs about her Charlotte Mason styled homeschool. In the early years, Jimmie's lesson plans were full of hands-on activities and lapbooks. As the years passed, she began using more and more notebooking and became so passionate about the method that she created her second blog, The Notebooking Fairy. That site features free notebooking printables and how-tos plus the affordable eBook guide Notebooking Success.
Check out Jimmie's freebies
The following two tabs change content below.
We are here to help families afford the homeschool life by providing the BEST homeschool freebies, deals, resources we can find & encouragement as we walk this journey together!
Latest posts by Free Homeschool Deals (see all)