Enjoy these free printable pages for Thanksgiving time. Have fun with these boredom busters, three pages full of Thanksgiving questions and statements.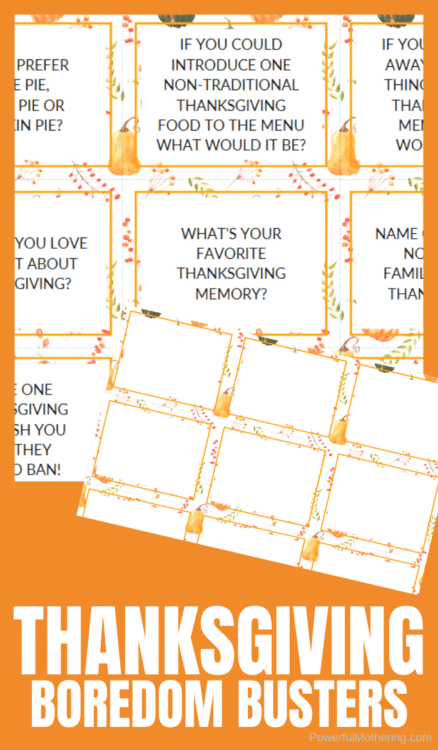 These free printable boredom buster pages are great for Thanksgiving dinner time. This is a great activity to give to the kids table at Thanksgiving time.
Keep your kids busy and entertained during Thanksgiving time with these free boredom buster printable pages, perfect for kids of all ages. Answer questions that are given and statements from twenty-seven different cut out cards.
Print out and enjoy these three free pages, each page has nine cards to cut out. Each card has a new prompt for kids to read out loud and react to. This gives your kid something to fill their time, occupy them with, and gets their brains thinking creatively.
These activities are great to use when in between studying and doing homework and also being fun brain exercises during holiday break from the rest of your school.
These cards are easy for all kids to use. Simply print and cut out the cards and give them to the kids in your family to enjoy around Thanksgiving time. Make sure that everyone gets a turn to draw a card and takes turns reading their cards out loud.
Check out these links below for more great free Thanksgiving activity posts.
The following two tabs change content below.
Latest posts by Isa Fernandez (see all)