Have fun with this fun and free spinning wheel Thanksgiving craft, which easily explains the story of the first Thanksgiving to your students.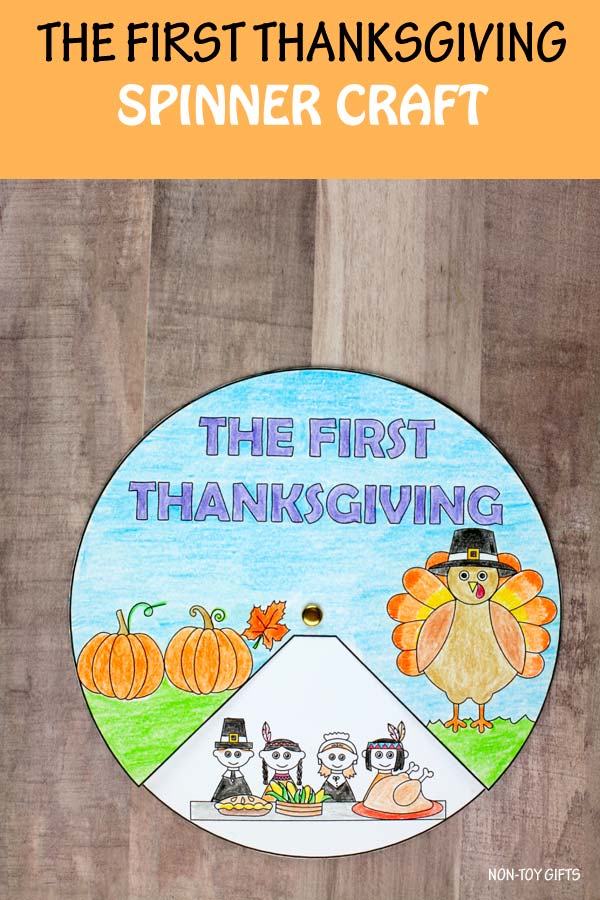 This craft is great for students of all ages. Have fun with this spinning wheel Thanksgiving craft that focuses on the history of Thanksgiving starting from when the pilgrims left England on the Mayflower boat.
There are four pictures on the spinning wheel. The four pictures are to tell the Thanksgiving story. The pictures include: the Mayflower boat, pilgrims cutting wood to build houses, Squanto holding corn, and lastly the first Thanksgiving meal.
Let your kids color and decorate their spinning Thanksgiving wheel. Share with them the history and meaning behind Thanksgiving and why we celebrate it every year.
Your kids can color their spinner with their favorite colored crayons, markers, or colored pencils. You will also need a hole punch, paper fasteners, and scissors for this fun activity.
This is a fun Thanksgiving craft to enjoy at home with your kids. You can also print out to use this fun craft in a classroom full of students.
Watch as your kids can have fun while also learning at the same time about the importance and meaning behind Thanksgiving this year.
Check out these great links below for more Thanksgiving themed activities:
CLICK HERE for hundreds of free homeschool printables
Be sure to follow the Free Homeschool Printables and Worksheets board on Pinterest!
The following two tabs change content below.
Latest posts by Isa Fernandez (see all)