For those nervous math students, have them practice counting by following animal tracks with these Skip Counting with Winter Woodland Tracks!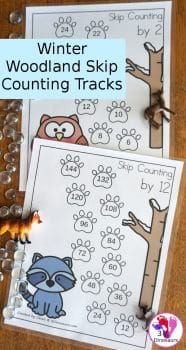 3 Dinosaurs has created 12 pages of printables that work on skip counting from by 1-12. You can do these pages with flashcards, counting chips, or toy animals–whatever will help your child to focus! This can be a daily math activity to help develop number sense and comfortability with counting.
For other skip counting resources, check out:
The following two tabs change content below.
Keri
Keri is a former elementary and middle school teacher who's worked overseas for 4 years. She loves to write and so decided to pursue her writing dream!