"When you have eliminated the impossible, whatever remains, however improbable, must be the truth." Sherlock Holmes is a much-loved detective known all over the world, and your children will love exploring his world with this FREE Sherlock Holmes Unit Study.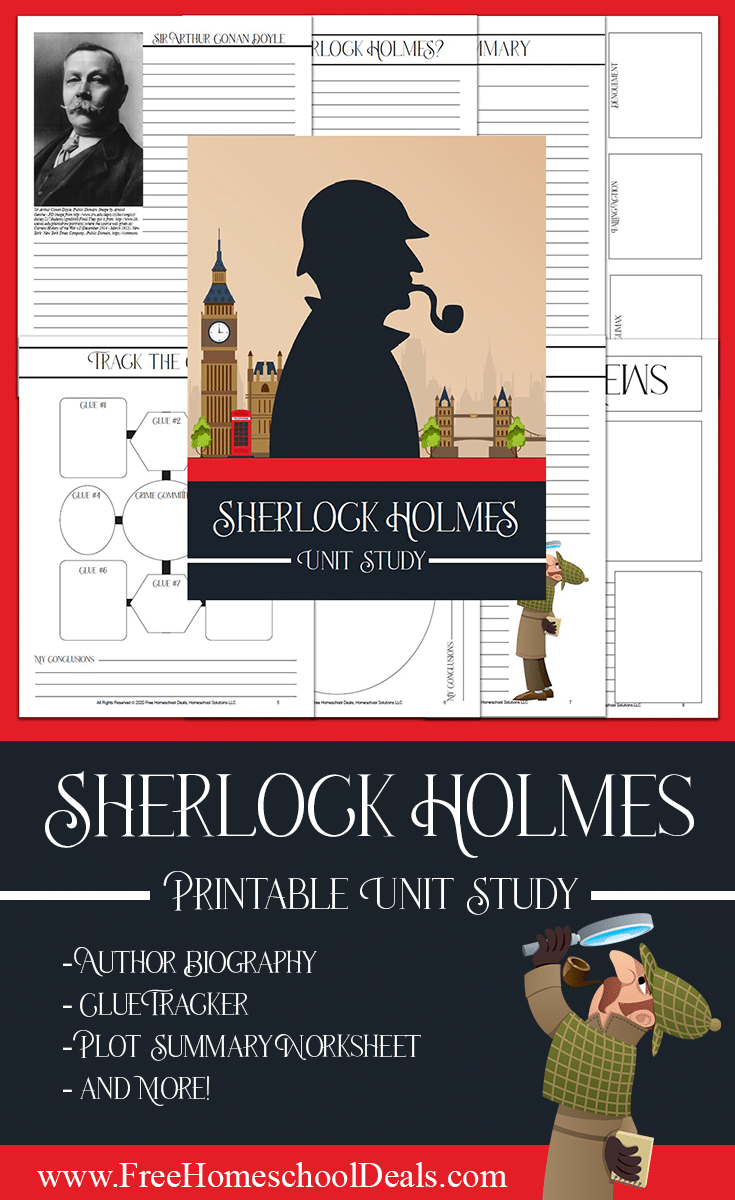 This unit study is perfect for upper elementary or middle school students. With the backdrop of Sherlock Holmes, your child will study the structure of story, character traits, analysis, and more!
Skills to attain using this unit study:
Background/Research
Before you begin a unit of study, it's advisable to start with a little pre-knowledge. Find out what your child already knows about Holmes and story structure in general. Then, have them work on their research skills to find out about the author as well as the importance of the detective story genre. They can use the first and second pages of the unit study.
Summarizing
Summarizing is a very tough skill to build. It involves figuring out the main idea of a story and trying to restate it while including other important details. It can be very difficult for young learners, but with Sherlock Holmes short stories, it can be a little bit simpler!
With this helpful resource, your child can work on summarizing each of the short stories. It can be helpful to practice some reading strategies beforehand.
Story Structure
Since story structure can be a little bit dry, it's more fun to use an exciting theme when teaching lessons about it. With page 6 of the resource, you can work through each of the different Holmes stories and talk about introduction, rising action, and climax! The more practice your child gets with it, the easier it will be.
Analysis
This is where it can get a bit tricky for some children. This is the section of this resource which really makes it more appropriate for older elementary students and middle school students. With the clues graphic organizer, your child will get great (and fun) experience with analysis.
They will have to hunt for the clues in each of the stories and make their own conclusions about who committed the crime. This will form a good base for the analysis skills they will develop in older grades.
Graphic organizers
This resource is chock full of graphic organizers that you can print out and use over and over again! Graphic organizers are wonderful ways to represent information, and they are a skill in and of themselves! You'll get great practice with these graphic organizers as you try to work through the Sherlock Holmes stories.
Note-taking
Note-taking is something that will develop over time through practice. You want your child to create effective notes and know how to use them as they get older. With the Who is Sherlock Holmes and Arthur Conan Doyle page, your child will learn to take notes about the stories and their own research.
Sherlock Holmes is such a fun and complex character, and your child will really enjoy trying to solve all of his mysteries! Not only will have they have a great time reading, but they can work on these important skills as well!
Sherlock website resources to add to your unit
The Portal About the Great Detective – Sherlockian
Come Watson, The Game's Afoot – Sherlock-Online
Sherlock Holmes Websites – The Adventuresses of Sherlock Holmes
Suggested books
The Complete Sherlock Holmes Kindle Collection!
New Adventures of Sherlock Holmes Audiobook
The following two tabs change content below.
Keri
Keri is a former elementary and middle school teacher who's worked overseas for 4 years. She loves to write and so decided to pursue her writing dream!