If you are studying world geography, you will most likely come across The Seven Wonders of the World, but did you know that there are different categories of the wonders? Mix reading and geography with this Seven Wonders of the Natural World Reading Comprehension!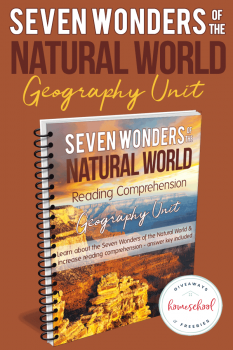 The natural wonders are locations such as the Grand Canyon, Victoria Falls, The Great Barrier Reef and more! If you are studying the seven wonders you will love this freebie from Homeschool Giveaways. It includes reading passages as well as comprehension questions for each! (answer key is included!)
For a similar resource, check out Natural Disasters Reading Comprehension Science Unit!
The following two tabs change content below.
Keri
Keri is a former elementary and middle school teacher who's worked overseas for 4 years. She loves to write and so decided to pursue her writing dream!