April is National Poetry Month! The idea and creation came about in 1996 by the Academy of American Poets. By taking a whole month aside to study a subject, you can REALLY get into it! Build a whole unit this month based on poetry resources and explore the beautiful world of poetry.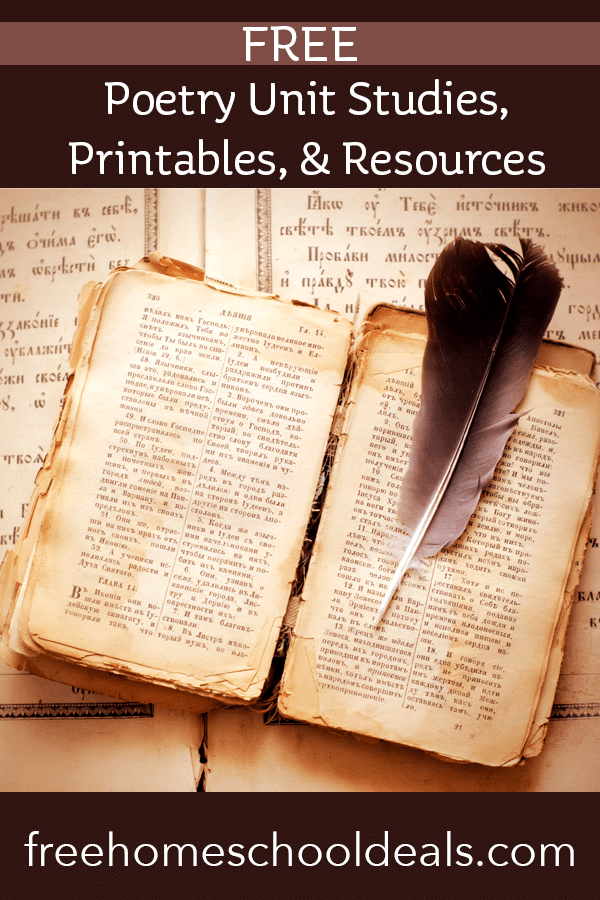 We have compiled a list of FREE Poetry Unit Studies, Printables & Resources that have been posted on their site. Plus, there are additional resources, blogs, and other websites that are posted on other sites, full of wonderful poetry tools!
Unit studies
Alfred Lord Tennyson Poetry Unit Study: Grab this 9-week poetry unit study by subscribing to Homeschool Giveaways! (perfect for upper elementary and above)
9-Week Unit Study on Emily Dickinson: You can get this unit study for free as a subscriber of Homeschool Giveaways! It's a $7.99 value!
Poetry Unit for Preschoolers: You'll love this resource from Preschool Powol Packets based on Shel Silverstein's poetry book Where the Sidewalk Ends!
Ralph Waldo Emerson Worksheets: This pack from 123 Homeschool 4 Me looks at Emerson's poem Fable and goes through vocabulary, rhyming, and more that you can separate into daily lessons!
Lesson Plans and Ideas for Studying Poetry: Find everything you need from one-off resources to overall unit studies at Homeschool Giveaways!
Printables & Resources
Ocean Animals Acrostic Poems: Do a little mix of science and language arts with these pages from 3 Dinosaurs!
Printable Poetry Memorization Cards: Immerse yourself in poetry with these 3×5 poetry cards from Teach Beside Me!
How to Write Acrostic Poetry with Kids and Free Printable: Start teaching poetry to your little ones with this cute activity from Vicki Arnold!
Number Poems for Numbers 1-20: Practice both counting and number words with these cute poems from Pam Barnhill!
Poetry of Robert Louis Stevenson + Impressionist Art: You will love these lovely printable pages of beautiful pictures and poems from Wildflower Ramblings!
Seasonal/Holiday Poetry Resources
Pumpkin Poetry Pack: Perfect for K-2nd grade, these poems from This Reading Mama are great for Fall!
Thanksgiving Poetry Pack: Find the rhyming words in this pack from This Reading Mama!
Christmas Poetry Pack: Set up similarly to the Thanksgiving pack, you can celebrate Christmas with poetry with this resource from This Reading Mama!
Back to School Poetry Pack: This Reading Mama also has a pack for Back to School time with poetry books, poetry craft, and more!
Fall-Themed Acrostic Poems: Grab these 10 acrostic poems all with a Fall theme made by 3 Dinosaurs!
Thankful Acrostic Poems: There are 6 different poems from Royal Baloo for you to create with your child!
Other roundups
Poetry: An Ultimate Homeschool Resource List – Encouraging Moms at Home
Poetry – The Homeschool Mom
Poetry Resources on other sites
Poetry Lesson Plans – How to Homeschool For Free!
How to Teach Poetry in Your Homeschool – Homeschool Giveaways
DIY Poetry Unit Study – Homeschool
Poetry Homeschool Curricula – Teachers Pay Teachers
The Charlotte Mason Approach to Poetry – Homeschool World
Teaching Poetry – Love to Know
Poetry Resources for Your Homeschool – Pam Barnhill
The following two tabs change content below.
Keri
Keri is a former elementary and middle school teacher who's worked overseas for 4 years. She loves to write and so decided to pursue her writing dream!