Springtime is the perfect time of year to start a garden. Including your children in gardening is a great way to get them to learn where their food comes from, and to try out new foods. Check out these Gardening Logs & Charts!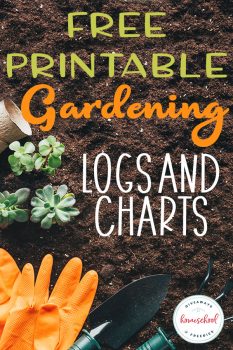 A wonderful way to include your children in the gardening process is by having them help you to track what you have planted, and when and where you have planted it. They can also log it as it is growing. These notes would be a great fit for a science notebook or homeschool portfolio. Homeschool Giveaways has gathered up some of their favorite gardening logs and resources for you to get started.
For other gardening resources, check out:
The following two tabs change content below.
Keri
Keri is a former elementary and middle school teacher who's worked overseas for 4 years. She loves to write and so decided to pursue her writing dream!