These Bird Matching Worksheets are perfect for teaching your toddler, preschooler, or kindergartener to recognize things that are the same. They are also great for pre-writing skills as they include line tracing!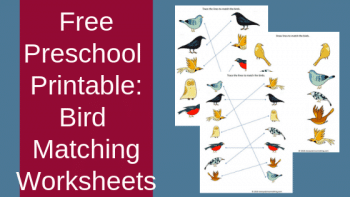 This resource from Always Doin' Something is 10 pages total: 5 pages where they must trace the line to match and 5 pages where they must draw their own line. If your child is just starting with recognizing things that are the same, make sure to ask questions like "Can you find the two birds that are black? Can you draw a line to match them?" Or point to a bird and ask "Can you find the other bird that looks like this one? I bet if you follow that line it will show you where it is."
If you'd like, you could print them on cardstock and laminate them for repeated use (with dry erase markers).
For other matching resources, check out:
The following two tabs change content below.
Keri
Keri is a former elementary and middle school teacher who's worked overseas for 4 years. She loves to write and so decided to pursue her writing dream!