Make teaching and learning place value easy and simple for you and your children with these Addition & Subtraction Place Value Help Mats!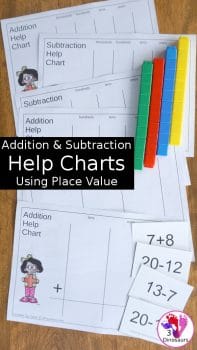 Three mats are included for both addition and subtraction. The columns go all the way up to the thousands place, but not all columns are on all pages. So, you can use these mats for a variety of math levels. These mats from 3 Dinosaurs are great to use with unifix cubes or another counting chip. Your child will solve the addition or subtraction problem and then display the sum or difference in the place value chart.
For other place value resources, take a look at:
The following two tabs change content below.
Keri
Keri is a former elementary and middle school teacher who's worked overseas for 4 years. She loves to write and so decided to pursue her writing dream!