Practice with place value using these Place Value Mats & Cards from Cassie at 3 Dinosaurs! These cards are great tools to use over and over, so laminate them for durability.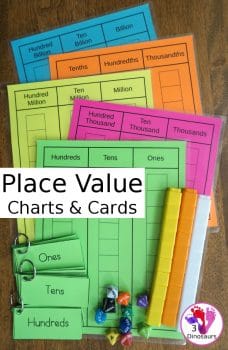 There are three place values on each card, and they go into the billions. Along with the mats come number cards in two different styles. One of the cards states the number with its place value, and the other has just the number (such as 8 and 8 ones). They are the perfect size to use with unifix cubes, and you can practice the place values with your child as they learn them!
For other place value activities, check out:
The following two tabs change content below.
Keri
Keri is a former elementary and middle school teacher who's worked overseas for 4 years. She loves to write and so decided to pursue her writing dream!