This is a special guest post from Lindsay of One Beautiful Home!  If you're interested in writing an article for FHD you may submit it here.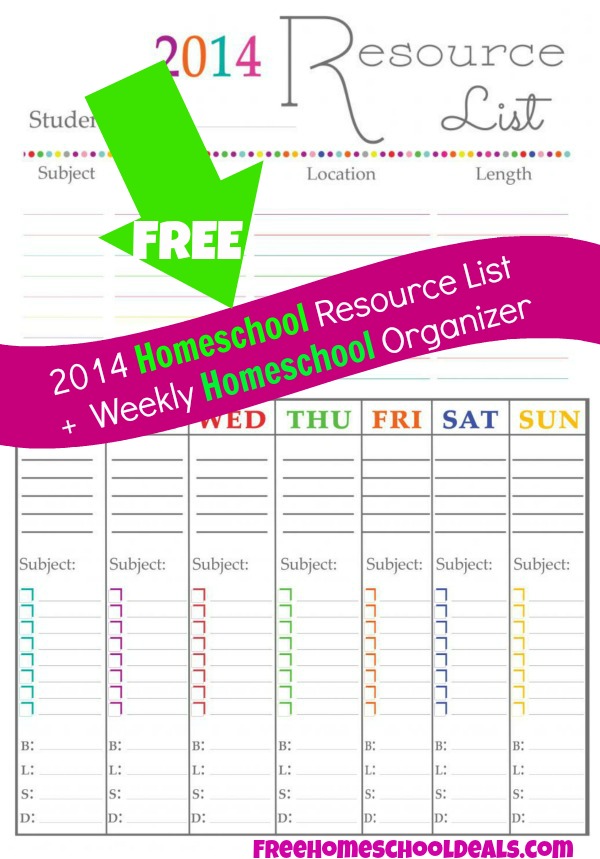 Hello all of you Free Homeschool Deals readers!! My name is Lindsay, and I blog over at One Beautiful Home. I am beyond honored to be posting over here today – thank you to Jamerrill for having me!!
My husband, 3 year old son Greyson, and I live in the middle of no-where in upstate New York. I spend my days at home with Greyson, playing, learning, and exploring as much as possible. I have a passion for creating printables – anything from a Preschool Assessment & Goals Workbook, to multiple interactive activity packets, right down to the items in our freezer.
Today I am going to share with you two printables, created just for you lovely readers. I have a Resource List and a Weekly Homeschool Organizer.
Right around this time every year I get excited for the first of January. I LOVE refilling our home management binder with all new "forms" to be filled out the over the next 12 months. I am adding the Resource List under the "education" tab, and the Weekly Homeschool Organizer gets laminated and stuck on the inside of one of our kitchen cupboards.
To start we have the Resource List:
I am and avid blog reader, especially homeschool blogs. I use this to track companies / programs / curriculum other bloggers mention that I am interested in exploring further. It has a column for:
Subject Area- English – math – science – art, etc.
Title- The name of the program, company, or the name you would use to find said program.
Location- Here you would write in the URL of the company, or how you would identify the program.
Maybe it is an APP for your Ipad, or a program at the local museum.
Length- Is it a full year course, 6 weeks, etc.
I keep this form in my management binder and can easily add to it or reference it at anytime!
The second printable is my Weekly Homeschool Organizer.
This form is laminated and stuck to the inside of one of our kitchen cupboards. (the refrigerator works just as well).
The lines underneath the abbreviated days of the week are where I put our activities that happen every week. For example: Library Time is put on a line under TUE & THU Rollie Pollies is put on a line under WED.
If an unexpected appointment or non-regular appointment pops up I quickly jot it down on one of the lines. Like a Dr.'s appointment or a spur of the moment play date.
The lines next to the check boxes are where I place subject areas I hope to "teach" each day. With a 3-year old I consider it a success to get more than one. But, I know a lot of you have older children and you have goals to reach everyday. This printable is not meant to be an in-depth layout of
your day-to-day learning. It is just meant as a quick reference guide to what you have on your list for the day.
Lastly, I have a spot for meal planning. I can notice a HUGE difference in my daily productivity when I have our meals planned in advance.
So there you have it. You can click HERE to download the resource list, or HERE to download the Weekly Organizer. OR you can click on any of the links below or the images.
I hope these help you kick start a happy, healthy, love filled, and organized new year!
I would love it if you connected with me over at One Beautiful Home!