Use these fun and free to print worksheets to help your students better learn how to read, write, and spell words all ending with letters -et in school this year. These pages will go along perfectly with whatever kind of study lesson plans you may already have in store for students.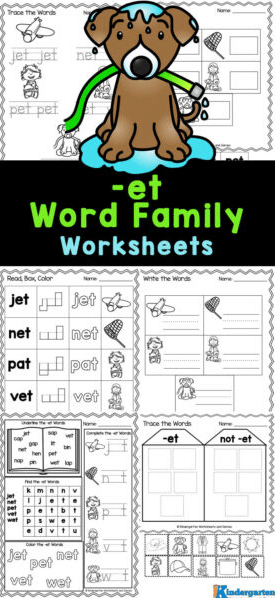 These wonderful learning activity worksheet pages make learning more fun and easier now than ever before for your students keeping them entertained and engaged the whole time with what they're learning which is great for helping ensure that they will remember and retain more of what they've learned.
Printing out these worksheets only comes in black and white which is actually great for printing costs not having to use colored ink, as well as giving your kids the opportunity to color and decorate the pages after completing the work to be done on them.
There are plenty of different fun learning activities that are included in this free to print pack of -et ending word worksheet pages for your kids to have fun while learning at the same time.
Using these worksheets is easy and perfect for teaching your own children one at a time at home, or possibly for a group of kids, even if you're in charge of a classroom somewhere full of a bunch of students who are all learning at the same time, these -et ending word worksheets are easy to use for anyone in all occasions.
Check out these links below for more free printable spelling worksheets.
The following two tabs change content below.
Latest posts by Isa Fernandez (see all)