Make learning fun now with the help of this super awesome free to print double digit addition math game that you can add to your current study lesson plans for students in elementary this year.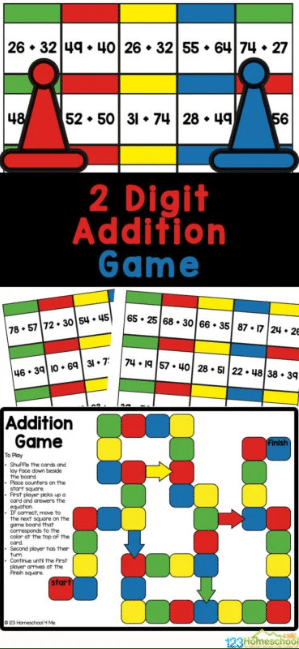 This is a great fun and free to print learning activity to be able to add to your current math study lesson plans for making learning more entertaining and exciting for your students which helps them learn easier by keeping them engaged in what they are learning.
This is perfect for students in elementary grades learning double addition that might need a little extra help, practice, or review.
Included with this fun and free to print double addition math learning game is a printable game board and sixty cards, as well as blank cards for you to be able to write in and create your own.
If you have a laminating machine available to use that works then it is best recommended to laminate the game pieces after printing them out so that way the game has better durability to last even longer for multiple repeated future uses.
Simply place a counter on the start piece to begin the game, with the cards shuffled and laid face down on the board. Have a piece of paper and pencil ready for kids to be able to use for solving the math problems to move forward with the game.
Check out these links below for more free to print math worksheets.
The following two tabs change content below.
Latest posts by Isa Fernandez (see all)