Make learning more fun and exciting for kids who are learning multiplication in math this year with this fun and free to print dog themed multiplication puzzles that you can add to your current study lesson plans.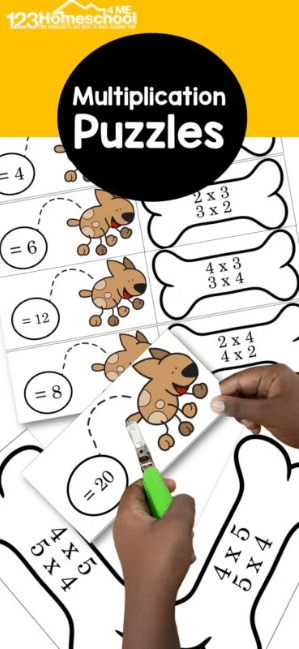 Find a fun way to now make doing multiplication practice problems easier and fun with the help of this free to print dog themed set of multiplication puzzle worksheets that you can add to your current math study lesson plans.
For your students in different elementary grades they can enjoy using this dog themed multiplication puzzle set by adding them to your currently planned math lesson studies in school this year for a little extra practice, or for review purposes.
Have fun with these super cute and free to print dog themed puzzle worksheet pages to print and cut out to use for your students in elementary grades. Laminate the pieces after cutting them out if you have the option to so that way it can have better long lasting durability for multiple repeated future uses.
If you do laminate the pieces you can always use draw erase markers on top of the pieces for writing, or you can choose to use crayons, pencils, markers, or pens on the paper version.
Check out these links below for more free printable math activities.
The following two tabs change content below.
Latest posts by Isa Fernandez (see all)