This post is from contributor, Marianne Sunderland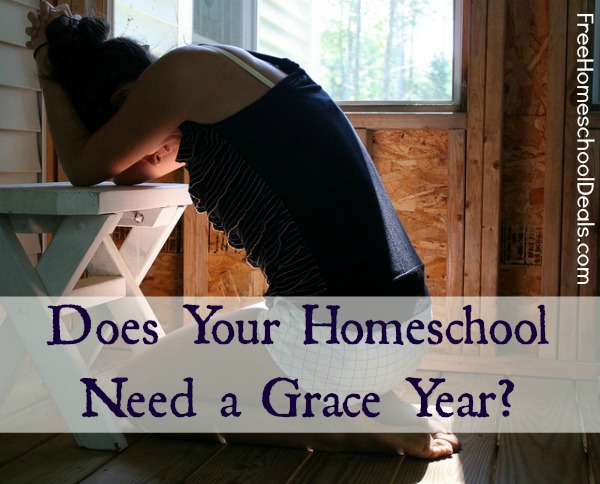 I was counseling a fellow homeschool mom about her struggle to find a 'groove' in her homeschool this year. It's no wonder that she was struggling; she has four young kids and is preparing to move for the third time in two years – among other things.
Have you ever had a year like that? A year when you have so much on your plate that every day is a struggle? Are your unfinished lists looming heavy and your confidence lagging?
Maybe you are in the middle of a year like that right now. If so, you may benefit from a Grace Year. Taking a step back from academics to focus on a baby, or an ill family member, or to work together to pack up and move is okay. In fact, in many cases, the things your kids learn by the experience can be life-changing – for the good!
How to Know if You Need a Grace Year
It is normal to have bad days. We all have them. If you've been homeschooling for a while, you know how no day ever goes perfectly to plan. However, if you have day after day of struggles or you are experiencing signs of homeschool burnout, it may be time to reevaluate your goals and prayerfully consider taking a Grace Year.
It is tempting to think that somehow this homeschool year will be different–to think that this year you will have long stretches of uninterrupted time in which to lovingly fill your children with all wisdom and knowledge, provide three home-cooked, gourmet meals a day in your perfectly clean and organized home.
There Will Always be Something
The truth of the matter is that every year holds something. There will always be some trial or obstacle keeping you from your ideal homeschool year. In our family of 8 kids, we have always had an infant, toddler or preschooler (or all of them!). We have experienced everything from family illnesses and financial troubles, to learning struggles and rebellious teenagers.
I was asked, after speaking at our local homeschool convention last summer, how we did school while our daughter, Abby, was being rescued from the middle of the Indian Ocean during her solo-circumnavigation attempt. My answer? "We didn't." No, we did not pull out our readers and history books while our family was in a crisis. Nor should we have.
Our kids did learn a lot though. They learned how family and friends and church collide to impact the world by prayer. They learned about the kindness of strangers and their parents' absolute and utter dependence on God.
When to Take a Grace Year
You don't need to be in a crisis to give yourself a break. Your break does not necessarily need to be complete. You may focus on certain subjects like literacy, the 3 R's, or character while taking a break from other, less important (at that time and in that circumstance) subjects. Your family's choice of how to take a Grace Year will depend on your unique family needs.
When your homeschool goals are based primarily on character and godliness, you can afford to take a break from the academics for a season. I mean, if you are drinking wine in the afternoon and watching soap operas while your kids are watching cartoons upstairs, get some help, but otherwise don't feel the need to shield your kids from real life. Learning how to navigate life's trials by seeking God through prayer and fellowship should be a part of every child's upbringing. They are going to face their own trials one day and your example will help them find their way during those times.
God Fills in the Gaps
Many years ago, when I was fairly new to homeschooling, I attended a talk put on by a group of veteran homeschool moms. They shared the stories of their homeschool years–the trials, the struggles, and the victories. I'll never forget the statement that one mother made after one particularly dramatic testimony. She said that despite her fears and doubts, God had filled in the gaps and then some.
Now I am that veteran homeschool mom and I am here to tell you that she was right! God has completely filled in the gaps in our homeschool – and then some. He will do it in your homeschool as well. Keep your hand to the plow. Don't grow weary in doing good. God is faithful!
Have you ever taken a grace year? Do you need one this year?
Need more encouragement from Marianne? Buy her helpful book Dyslexia 101!
The following two tabs change content below.
Marianne Sunderland has been married to her husband, Laurence, since 1991. She is a homeschooling mother of eight lively children ages 2 to 21, including adventurous and homeschooled sailors, Zac and Abby Sunderland, known for their world-record setting around the world sailing campaigns. Marianne is passionate about encouraging families to discover and nuture their children's God-given gifts and talents, in and outside of the classroom. She also encourages women to joyfully love and serve their families. Her varied experiences homeschooling through difficult times and with kids who learn differently has taught her much about stepping outside the box in her homeschool. Marianne's blog, Abundant Life, provides weekly articles on faith, family and homeschooling that will bless and encourage you.
Latest posts by Marianne Sunderland (see all)