Use these free to print candy bar themed fractions worksheets for extra practice and review purposes for your students in school this year.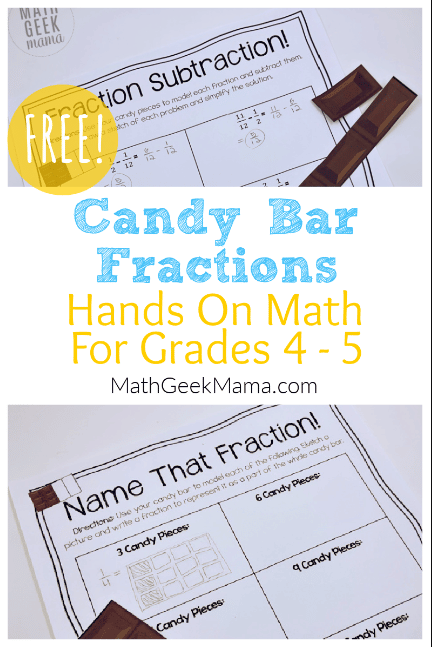 These candy bar themed free to print fractions worksheets are perfect to use for your students in elementary school grades who might need a little extra practice or for review purposes.
Easily download and print out these candy bar themed fraction worksheets that you can add to be apart of your current math study lesson plans in school this year no matter what kind of curriculum you're using and if you teach your kids from the comfort of your own home or a classroom full of kids.
Make learning fun for your kids by practicing fractions using candy bar examples. For a fun idea you can treat your kids with pieces of a real candy bar if they get a certain amount of questions right.
These fun and free to print candy bar themed fractions math worksheets are geared more specifically towards fourth and fifth grade students but of course also works for students of other elementary grades.
Your kids will be prompted to draw candy bar fractions and solve basic written fractions with these free printable math worksheets.
Check out these links below for more free printable math worksheets.
The following two tabs change content below.
Latest posts by Isa Fernandez (see all)