Add these free printable Aztec themed worksheets to your current history study lesson plans, perfect for your students in elementary grades.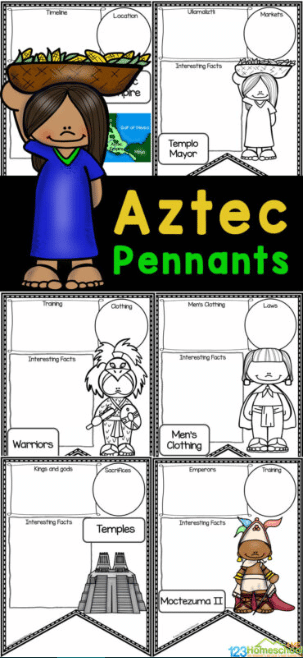 Your first through fifth graders will absolutely love doing these fun and free printable Aztec history worksheet pages to learn all about the Aztec people that occupied Mexico a long time ago from 1300-1521.
Easily download and print out this wonderful free printable Aztec themed history worksheets that include multiple different template pages that give your kids plenty of writing space for taking notes about the Aztec culture they learn about.
This free printable pack of Aztec themed template worksheets are blank and leave space and suggestions for your kids to do specific research and look up certain things to take notes of.
This is an excellent free printable learning activity to be able to add to your current history study lesson plans either for teaching your students from being in the comfort of your own home, or using them to teach a classroom full of kids who are all learning at the same time.
You have the option to be able to print out the worksheets in color or in black and white. If you print out the worksheets in black and white then you may be able to save a little bit of money.
Check out these links below for more free printable history worksheets.
The following two tabs change content below.
Latest posts by Isa Fernandez (see all)