Use this free printable apple themed counting learning activity worksheets to help your students in preschool, pre-k, and kindergarten grades to have fun while they are learning at the same time.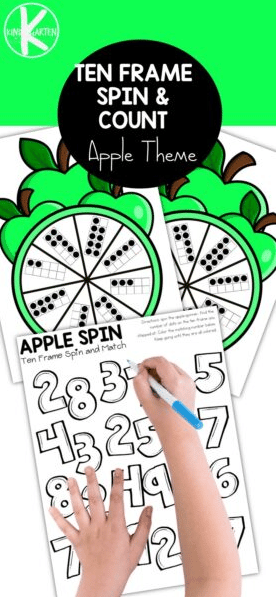 Your students are going to love these super fun apple themed free to print counting practice worksheets that you can easily download and use for teaching your own children one on one style from while being in the comfort of your own home, or a classroom full of students who are all learning together at the same time in a school.
These super easy to use and free to print apple themed counting activity worksheets are the perfect thing for you to have for adding to whatever current math study lesson plans you may already have for your students. These worksheets are perfect for any and all occasions.
These apple themed counting worksheets go over numbers one through ten and includes a fun and free printable spin and count game that makes learning fun for your kids.
When you can make learning fun for your kids they are more likely to want to learn and apply themselves and remember what they learn instead of getting bored and spacing out while trying to get them to pay attention to what they're learning.
Check out these links below for more free printable math worksheets.
The following two tabs change content below.
Latest posts by Isa Fernandez (see all)