Help teach your younger kids how to count with this fun and free printable apple themed counting learning activity that you can use to be apart of your current study lesson plans in school this year.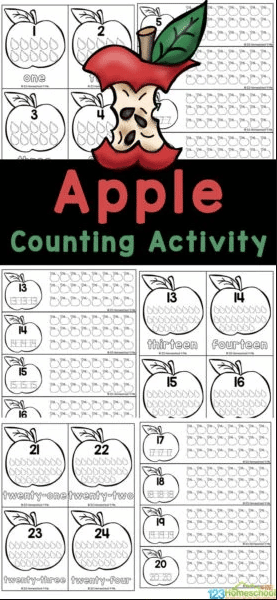 This free to print pack of apple themed counting learning activity pages is great extra practice to have around and use as extra practice for your students.
Included with these really great free printable apple themed counting pages are numbers one through twenty-four to practice counting with for you and your students to use.
Your students in preschool, pre-k, and kindergarten are going to have so much fun with this apple themed counting activity that they won't even feeling like they are learning or doing school when they really are.
These pages are a really great way for keeping your kids busy, entertained, and occupied all the while at the same time getting to practice their counting skills because the more that your students practice counting the easier it'll become for them.
Whether you choose to teach your own kids personally at home, or maybe you're a teacher who's in charge of a classroom full of students who are all learning together in a school, these free printable apple themed counting pages are the easiest thing to download and perfect thing to use for helping your kids learn.
Check out these links below for more free printable counting activities.
The following two tabs change content below.
Latest posts by Isa Fernandez (see all)