Feel free to download and print out this super useful and free printable Ancient Rome notebooking paper pack of pages to use in your kids history study lesson plans this year in school.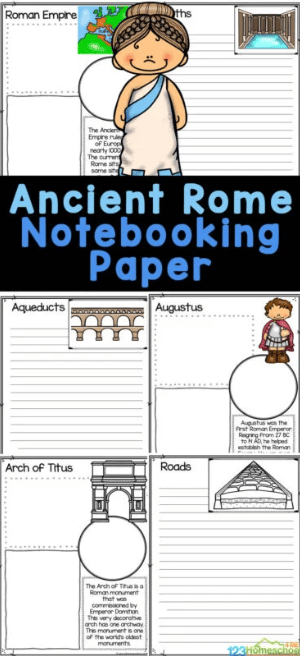 This awesome free printable pack of Ancient Rome notebooking pages are going to be great for you to use for your kids this year as apart of their current history study lesson plans.
Your children are going to be able to have so much fun studying the many different kinds of facts about Ancient Rome that are included with this nice free printable Ancient Rome notebooking pack of pages.
These wonderful fun and free printable Ancient Rome notebooking pages are excellent for your elementary grade students whether you are choosing to teach them from being in the comfort of your own home, or you're in charge of teaching a classroom full of kids who are all learning at the same time.
These mess free and no prep Ancient Rome notebooking worksheets are great for learning all about the colosseum, Augustus, the Roman Empire, and other aspects of Ancient Roman civilization. Have your kids use their imaginations to picture what it would have been like to live in a time like back then.
Check out these links below for more free printable history worksheets.
The following two tabs change content below.
Latest posts by Isa Fernandez (see all)