Have fun with these free printable Rome themed coloring pages that you can add to your current history study lesson plans for your kids school this year.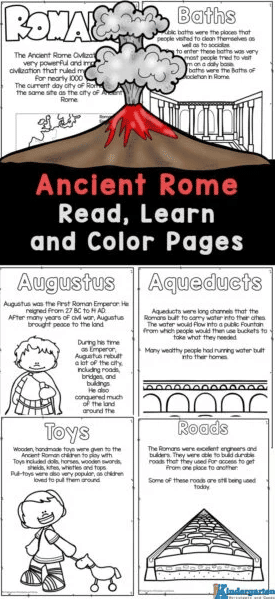 Kids of all ages love coloring so help them learn all about ancient Rome civilization times with these awesome free printable ancient Rome coloring pages that are totally free and easy to print.
With this free printable pack of ancient Rome coloring pages your kids are going to get to have so much fun coloring exactly how they want to with their most favorite colored crayons, markers, colored pencils, and whatever else that you may have available that they like to use for coloring and decorating activities.
While having fun coloring your children will also be studying and learning about ancient Rome and their way of life back then including what kind of clothes that they wore, the food that they ate, and the overall way they did things back then.
This is a great fun and free printable ancient Rome themed pack of coloring page for helping teach your students all about culture and other ways of life and how people used to get things done in older times before all this new technology that we have so common today.
Check out these links below for more free printable history worksheets.
The following two tabs change content below.
Latest posts by Isa Fernandez (see all)