This fun and free printable pack of ancient Greece worksheet pages are excellent to be able to add to your current history study lesson plans for learning while having fun with your students this year in school.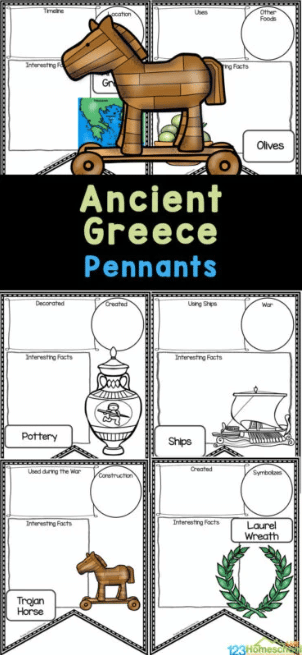 You get to have fun while studying about ancient Greece with your students in elementary first through sixth grade with this free printable pack of ancient Greece worksheets.
This free printable pack of worksheets includes templates for your kids to be able to write down what they learn about ancient Greece, as well as pictures of popular symbols of ancient Greece for your children to become familiarized with.
Your kids will absolutely love these ancient Greece worksheets where they get to learn about the location of the ancient Greece empire, the Trojan horse, the clothes they wore back then, the first Olympics, how warriors trained, and so much more information.
This free printable ancient Greece pack of worksheets is super easy to be able to download, print out, and be able to use to help teach your students about history while being in the comfort of your own home, or to use in a classroom setting full of kids who are all learning at the same time.
Check out these links below for more free printable history worksheets.
The following two tabs change content below.
Latest posts by Isa Fernandez (see all)