Use these fun and free printable ancient Greece themed reading and coloring pages to add to any of your current history study lesson plans for helping to teach your kids with the most ease.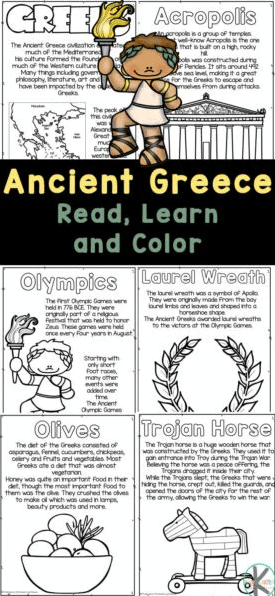 Enjoy this free printable pack of Greece coloring and reading pages that include all kinds of important fun facts for your kids to be able to learn in school.
These are the greatest and most perfect pages to be able to add to any kind of ancient Greece unit study lesson plans that you may have in mind for teaching your kids from being in the comfort of your own home, or teaching a classroom full of kids who are all learning at the same time in school.
Even if you're not choosing to add these pages to be apart of your school plans, you can still easily print them out to give to your kids just doing for fun and at the same time they'll get to learn about a new and different kind of culture.
There are ten black and white pages here you to be able to print out for your kids to color, read, and learn about ancient Greece.
Check out these links below for more free printable history worksheets.
The following two tabs change content below.
Latest posts by Isa Fernandez (see all)