Check out these super fun, free to print, and easy to use -ab word worksheets to help your children who are starting out learning how to read and spell simple words in school this year.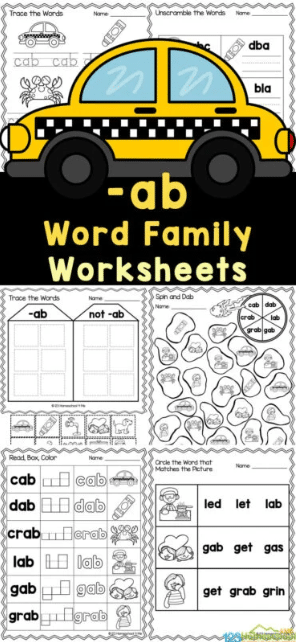 This is the perfect fun and free to print learning activity exercise pack of worksheets to add to any current study lesson plans for teaching your students in preschool through elementary grades how to read and spell simple -ab words.
Take advantage of these fun learning activity worksheet pages to make teaching and learning easier and better to understand for you and your students involving words that are easy to learn and end in -ab. These pages also print out in black and white which can be helpful towards printing costs as well as leave opportunity and room for your kids to have fun coloring and decorating the pages too.
Learn how to read, write, and spell words that end in -ab with the help of using these really awesome and also free to print learning activity worksheet pages that are great for students ranging from preschool to elementary grade levels.
There are many different kinds of super fun, helpful, and free to print reading and spelling learning activity worksheet pages included with this free to print pack of -ab themed words.
Check out these links below for more free printable spelling worksheets.
The following two tabs change content below.
Latest posts by Isa Fernandez (see all)