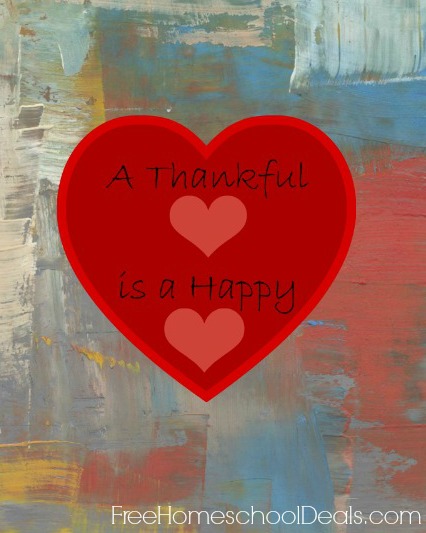 This post is from contributor, Sarah Outlaw
My kids loved Veggie Tales when they were little. We bought all the DVDs and memorized all the songs. There's a song that Junior Asparagus sings called "The Thankfulness Song" from "Madame Blueberry" that has stuck with me through the years.
If you're not familiar with the story behind this song, Madame Blueberry is a lady (well, a blueberry lady anyway) who lives in a beautiful treehouse. She has lots of things but has a problem with being thankful for what she has. One day, two representatives from the new "Stuff Mart" come by with an offer she can't refuse. They convince her to come to the newly opened store to buy all the things she just can't live without. She ends up buying so much stuff that her house falls down and she loses everything. She realizes that the value isn't in her stuff and learns how to be thankful even with nothing.
She learns that thankfulness equals happiness.
This is a valuable lesson to teach our children and one that we first must grasp ourselves. It is very unattractive to see children beg and cry for "stuff." People look at them and say, "What an ingrate!" or, "What a spoiled brat!"
I see this in my own children from time to time and it really scares me to my core.
How am I raising them? Am I raising future adults who have a sense of entitlement and act as if the world owes them something? God forbid!
I want my children to be generous, kind, empathetic, loving, and selfless.
What are they seeing from me? They model behavior, so how do I act?
Selfish?
Entitled?
How do *you* act? Are you different at home with your children than when you are out in public? Are you instilling in them the need to serve others rather than expecting others to serve them?
Hard questions, I know! But, they need to be asked.
What are some things we can do at home to teach our children to be thankful?
One of the ideas that I have tried to implement over the years is asking my children to tell us three things they are thankful for while we are all together at the dinner table.
Another idea is to have a marker board in the most-used room of your house and each day write a word of thankfulness on it. An example would be "Family." Tell your children that today we are all going to be thankful for our family. Have them think of 3 things they can do for one member of their family, whether it be a chore or just something kind.
I've also bought my children journals they can use as gratitude journals to write down things they are thankful for. They doodle in them mostly, but maybe you'll have better luck!
The point is, we fail daily! It's easy to live in complain-ville and harder to live in thankful-town. Thankfulness takes practice!
I Thessalonians 5:18 says, "In every thing give thanks: for this is the will of God in Christ Jesus concerning you" (KJV).
In EVERY THING! Not just what you feel like being thankful for. Not just during the good times. In every thing!
Definitely something to ponder and pray about!
How about you? What works for your family in living in a spirit of thankfulness?
The following two tabs change content below.
Sarah Outlaw is a wife, homeschool mom to four, Certified Biblical Health Coach, and blogger at
Real Food Outlaws
. She also loves working with herbs and owns
90210 Organic
s, an Eco-boutique and apothecary. She is passionate about educating people on the importance of living a more natural life the way God intended.
Latest posts by Sarah Outlaw (see all)