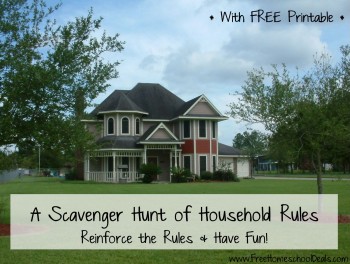 Scavenger hunts are one of our family's favorite activities. Who doesn't love to follow clues around the house to find a special treat or reward? The challenge of figuring out a clue or writing them thrills me. I have written simple scavenger hunts for toddlers and preschoolers, scavenger hunts for a 10 year old girl's glamour birthday party to complex clues for teenagers leading them all around town. My kids even helped write a scavenger hunt for daddy to welcome him home from work one day. Their favorite part? They were his prize!
Today, we're doing an activity that combines reinforcing household rules (like turn off the lights when you leave a room) with the fun of a scavenger hunt. Be sure to find a fun treat or little toy for your kids to find at the end. Work with them as they decipher the clues that will lead them around your house. Ask questions to help them figure out the answer. Talk about the household rules as you go.
Here are our clues. For a quick and easy scavenger hunt, download the FREE printable here. Just print, cut the clues and play.
* This clue leads to one of the sinks your kids use to wash their hands.
Let's stay healthy

Let's stay clean

Do this often to be

A germ fighting machine
* This clue leads to the sink your child uses to brush their teeth.
Don't leave me running

I go down a drain

I'm useful when brushing

But please use your brain.
* This clue leads to the kitchen table.
I need to be cleared

The meal is done

With dishes and glasses

Helping out can be fun
* This clue leads to your designated meeting spot in case of fire.
If there's a fire

Here's where we meet

Be safe and be quick

So you don't feel the heat
* This clue leads to the stairs.
We don't want to trip up

We don't want to fall down

Please keep me clear

And you'll see no frown
* This clue leads to a door. Let them run around to find the right door.
I'm big and I'm tall

But not meant to slam

You'll get in trouble

If you go bam-bam.
* This clue leads to your child's bed.
You are awake

But I will stay put

Tend to my blankets

From head to my foot.
* This clue leads to a roll of toilet paper.
Don't use too little

Don't use too much

Just the perfect amount

Before you flush
* This clue leads to a light switch. Let your child run around the house checking all the light switches.
You're leaving now

You are all done

Please turn me off

Wasted power's no fun.
* This clue leads to the inside of the refrigerator.
I keep food fresh

I keep things cold

Close my doors

So you won't find mold.
Get involved with your children as they run around the house. Teach, learn and have fun!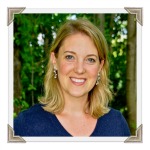 Kristen is a fun-loving mom to two kids who keep her busy and laughing. Add her great husband and the Lord to the mix and her life is one fantastic, crazy adventure. She is a former youth leader, professional wedding and event planner and has a degree in Christian Thought/Christian Ministry. She loves long lists, diet soda and playing jokes on her husband. Kristen is the author of Teach Me To Serve: 99 Ways Preschoolers Can Learn to Serve & Bless Others. You can find her blogging at Celebrate Every Day With Me where she shares fun ideas for children's activities, creating memorable moments and party planning. Stop by and celebrate the 'everyday stuff' of life. You can also connect with her on Facebook, Twitter and Pinterest.
The following two tabs change content below.
We are here to help families afford the homeschool life by providing the BEST homeschool freebies, deals, resources we can find & encouragement as we walk this journey together!
Latest posts by Free Homeschool Deals (see all)