The following is a post from Kirsten Joy Torrado.
Keys are turning points.  And turning points are opportunities to take something normal and make it into something great!
I'd say our days in learning at home definitely have turning points—points on which the success of our days absolutely hinge.
Here are my top 4 keys to a successful homeschool day.
(In no particular order, because on most days our orderliness has absolutely nothing to do with our success.)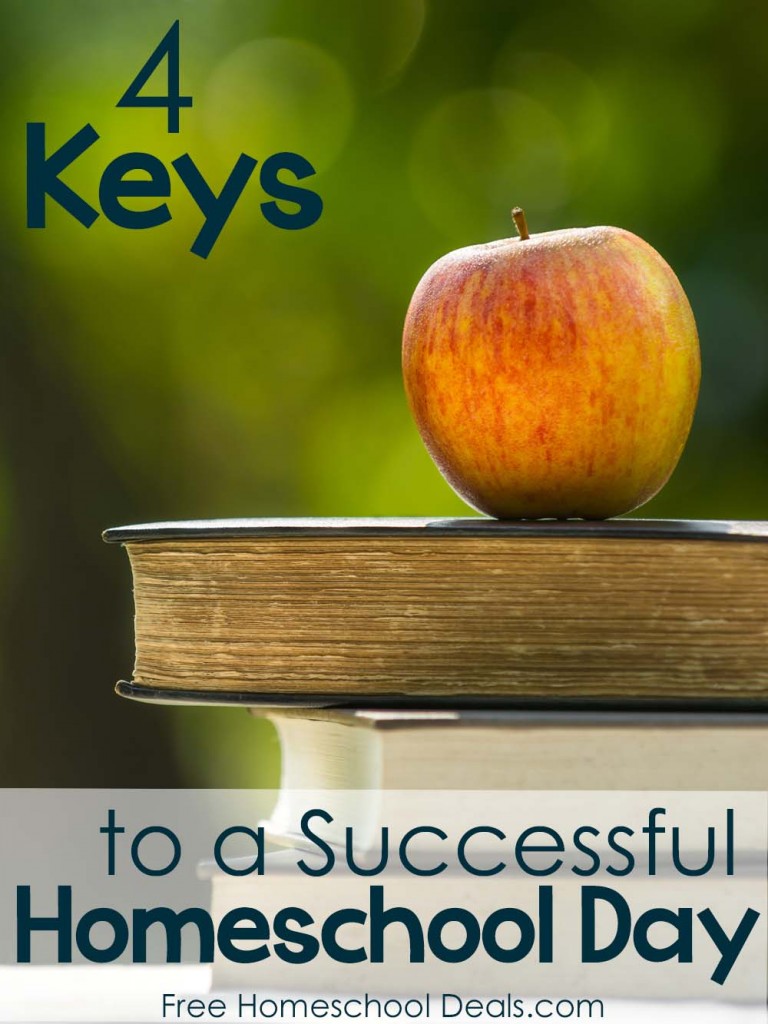 1. Flexibility
"Mommy can we do history today?", comes my son's exuberant request. "Of course!", is my reply.
After language arts and math is what I'm thinking. But, if there's one thing I know it's to never squash a moment of excitement when it's driven by genuine interest.
Letting your child's interests lead their education is certainly easier said than done. It requires flexibility. You see I usually don't have history planned until the afternoon when we've accomplished our seatwork and subjects that require heavy lifting.
But, if I'm flexible and pull out our Story of the World Volume 2 now, I know that I'll stoke the fire that is his passion for story. And the other things will come easier because his heart is with me.
2. Fortitude
Not every activity we do in our homeschool is one of personal interest. There are some things, although quite un-enjoyable, that just need to get done. And though not exactly academic, life skills are still an important part of a child's learning.
But frankly, chores are well…a chore.
Sometimes my children resist the simplest of activities, like getting dressed in the morning and cleaning up their rooms. And that resistance will test my resolve (and on some days my sanity) but, if I am resolute and calm (take one more breathe, you can do this) I can help my children overcome their struggles until the skill is firmly placed.
Sometimes you just need the strength of mind that allows you to press past the struggle points to the point of success.
3. Fun
Learning should be fun!
When my son was in first grade at our local public school, he used to complete his assignments in half the time as his classmates and doodle in his notebook until everyone else had finished. Or, often times he would say to me, "But mommy I already know this!"
He was bored.
It's one of the reasons that we decided to homeschool; so that I could challenge him with new content and keep the learning fun. This means getting hands on and changing the venue.
To keep our learning fun we use every room in the house. We read on the living room floor, we do science in the kitchen, we don clipboards and go outside on blankets. The coolest part about homeschooling is that learning doesn't have to happen on a worksheet or sitting at a desk. This keeps it fun!
We also have the privilege to edit and insert into our curriculum whatever is necessary to hold interest and keep the pace moving at a speed that's right for them.
4. Feeling Connected
I love the connection that learning together has cultivated in our lives.
The smiles of success. The high fives for a job well done. The compliments well deserved that yield confidence. The cuddles and blankets on sofas during read-alouds. The laughing out loud at the silliest moments. The probing questions and why's that have time and space to find expression. The digging for answers to satisfy inquisitive hearts.
These are all part of our feeling connected; resting in the feeling of knowing that there's no other place that I'd rather be than here in this moment. Together. Home.
Let's continue the conversation…
What's your key to a successful day? Leave a comment below and let's share with each other what helps make your days successful.
The following two tabs change content below.
We are here to help families afford the homeschool life by providing the BEST homeschool freebies, deals, resources we can find & encouragement as we walk this journey together!
Latest posts by Free Homeschool Deals (see all)