Take advantage of these 20 different free to print addition related math worksheet pages to be able to add to your current study lesson plans in school this year for your students in elementary grades.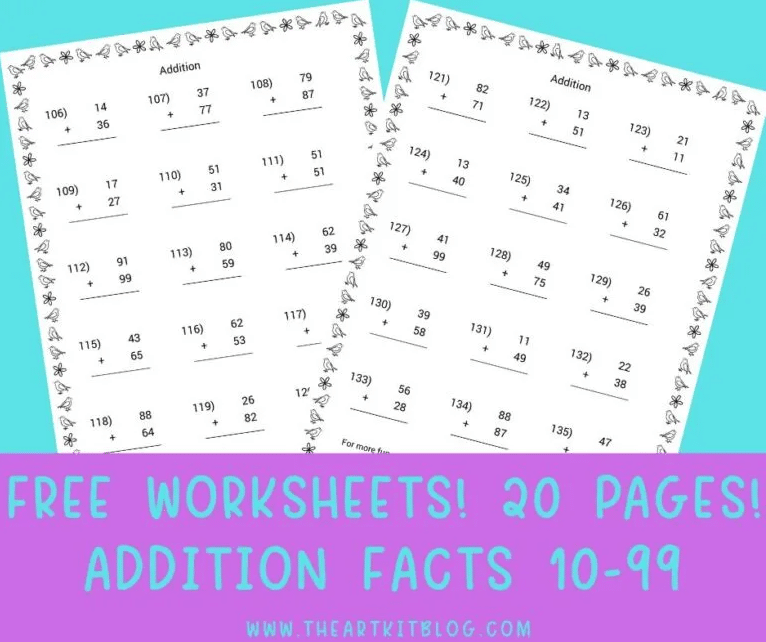 Check out these addition facts worksheets to add to your current math study lesson plans for your kids learning in early elementary grades in school this year. Whether you're choosing to teach your kids from the comfort and privacy of your own home, or perhaps you're in charge of a larger classroom full of students who are all learning at the same time, these worksheets are perfect for any and all occasions
This is free to print pack of addition worksheets works out perfect for students in elementary grades who are learning and practicing addition that might need a little extra help, practice, or review.
Watch as these free to print addition worksheet pages make things easier for kids just getting into double digit addition and make it easier those teaching and for students who are learning.
You can use these double digit addition math worksheets pages for however you see fit whether it's to add to whatever current study lesson plans you may already have as extra practice, or if you want to use them as quizzing or for review purposes.
Check out these links below for more free printable math worksheets.
The following two tabs change content below.
Latest posts by Isa Fernandez (see all)