This free St. Patrick's Day Printable set is created by  FHD contributor Cassie from 3Dinosaurs.com
Dot Marker pages are a great way to work fine motor with a child. These Dot Marker pages go with the book There Was an Old Lady Who Swallowed a Clover by Lucille Colandro. There are 12 pages in this set.
Also check out 3 Dinosaurs for a Free St Patrick's Day Pack that goes with these.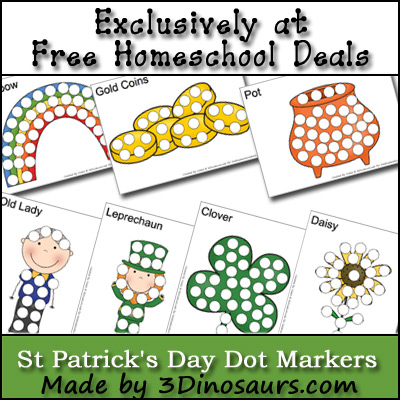 >>>Click here to download the Free St. Patrick's Day Worksheets: Dot Marker Printables<<<
The St Patrick's Day Dot Marker set was made exclusively for Free Homeschool Deals. Please read over the terms of use for the printables before using them.
Cassie – 3Dinosaurs.com
Cassie is a mom of three stomping, romping, and roaring girls. She blogs about fun art and craft activities and printables she make. She includes the odd review of products every now and then. She also blogs about the places that she has taken the girls called trip reviews. She has a few free printable pack for kids ages 2 to 8 and always adding more. She love to get comments and feedback and always looking for new things to try or do with her girls. You can follow Cassie at RRS, Facebook, Pinterest, and Google +.
Comments
comments