This free printable worksheet set is created by Cassie of 3 Dinosaurs!
Free Fall Worksheets
Fall is a great times for apples! Here is a small Apples Activities Pack! It is a 16 pages of Apple Themed Activities full of math, counting, size and writing.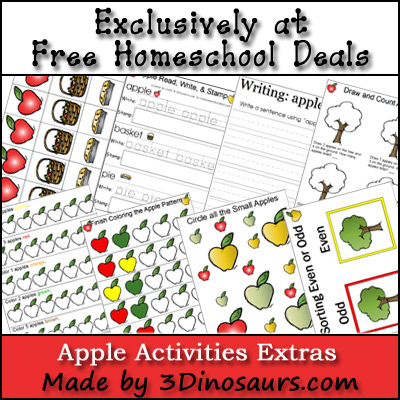 What you will find in the 16 pages Apples Activities Pack:
Pattern Cards
Read, Write, Stamp
Writing: Apples, Basket, Pie
Draw and Count Apples
Count and Color
Finish Color the Apple Pattern
Circle the Small Apples
Sorting Even & Odd
Before you download your free pack you agree to the following:
This set is for personal and classroom use only.
This printable set may not be sold, hosted, reproduced, or stored on any other website or electronic retrieval system.
All downloadable material provided on this blog is copyright protected.
>>Click here for the Free Fall Apple Activities Printable Set! <<<
More Free Apple Printables
This also goes well with the Apple Calendar Cards and the Free Apple Activities Pack.
Cassie is a mom of three stomping, romping, and roaring girls. She blogs about fun art and craft activities and printables she make. She includes the odd review of products every now and then. She also blogs about the places that she has taken the girls called trip reviews. She has a few free printable pack for kids ages 2 to 8 and always adding more. She love to get comments and feedback and always looking for new things to try or do with her girls. You can follow Cassie at RRS, Facebook,Pinterest, and Google +.
Comments
comments