Use these free printable World War I coloring pages and activity and reading worksheets for your kids to learn about the importance of World War I in history.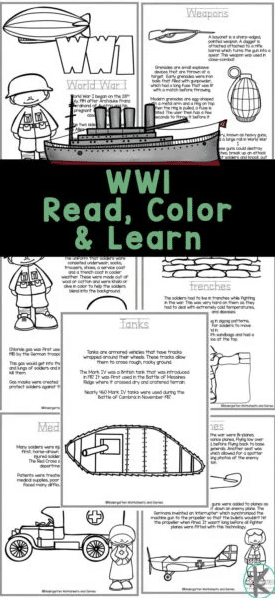 It has been said that those who do not remember history are doomed to repeat it. It's important to teach historical events in time to your kids and make them understand what happened so that they have a greater appreciation for how things are today.
We have the kind of freedom and rights because of the sacrifices people who came before us made. Teach your students about World War I and what happened with these free printable coloring and activity worksheets.
This free printable worksheet pack is great for reading to your kids to teach them the importance of this historical event that happened in time. Read the lessons out loud to your students as they get to color in the worksheets and fill out the activities.
Let your kids pick out their favorite colored crayons, markers, and colored pencils to use to be able to color and decorate these nice free printable history World War I worksheets.
These free history printable worksheets make for a great addition to add to your history study lesson plans. These worksheets are excellent for your young, elementary, and middle school aged students to be able to take advantage of.
Check out these links below for more great free printable history worksheets.
CLICK HERE for hundreds of free homeschool printables
Be sure to follow the Free Homeschool Printables and Worksheets board on Pinterest!
The following two tabs change content below.
Latest posts by Isa Fernandez (see all)