Use these fun and free printable worksheets for your students to teach them to learn different words that end with an SH sound.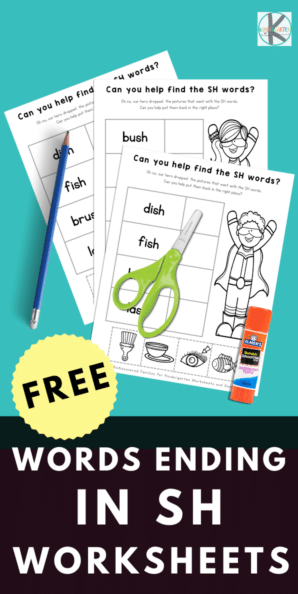 This is the perfect low preparation, free printable activity worksheet set for your students to be able to use to have fun while also learning new things at the same time.
Your young students in preschool, pre-k, and kindergarten will be able to practice their hand coordination and fine motor skills with these free printable practice worksheets. Read and learn different words that end with an SH sound and practice cutting and pasting skills by following the directions that are given on the pages.
Included in this free printable worksheet pack are three cut and paste, tracing, matching activity worksheets, and one writing page; all of which are perfect for your young students that are in kindergarten.
These are the perfect free printable, educational worksheets to add to any of your study lesson plans that you might have and use at home or in a classroom full of students.
The pages print in black and white which leaves the opportunity for your students, if they want to, after completing their lessons they can pick out their favorite colored crayons, markers, or colored pencils to use to color and decorate the free printable worksheets. It's part of the fun part that makes it feel less like school and more like playtime.
Check out these links below for more similar free printable worksheets.
CLICK HERE for hundreds of free homeschool printables
Be sure to follow the Free Homeschool Printables and Worksheets board on Pinterest!
The following two tabs change content below.
Latest posts by Isa Fernandez (see all)