Have fun with this easy to use and free to print under the sea themed word search activity pack for kids of multiple ages to be able to use.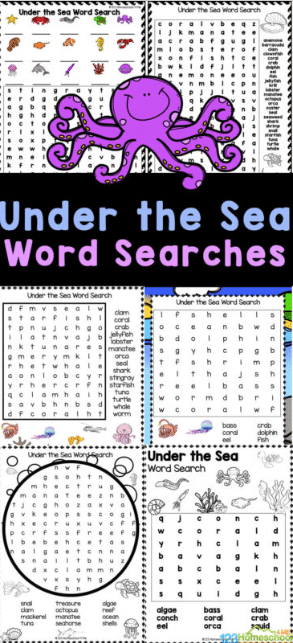 You'll find these under the sea themed word searches to be so much fun for kids to be able to enjoy using whether you want to have them as fun activities to have on hand or if you want to add them to unit study lesson plans for school this year.
Word searches are excellent practice activities for kids learning how to read and spell words because they're given words that they have to try to find in a jumbled mix of random letters. It's a great way to exercise and stimulate the brain while having fun playing a game at the same time.
This is the kind of activity that kids can enjoy doing by themselves at any time or groups of kids can have fun doing together in any kind of scenario.
There are different sizes and levels of easy and hard included with this fun and free to print under the sea themed word search pages so that you and your children can find which ones work best for you at whatever learning level they're currently at.
Check out these links below for more free printable word searches.
The following two tabs change content below.
Latest posts by Isa Fernandez (see all)