Have fun with this easy to do turkey feather science experiment activity for kids to enjoy.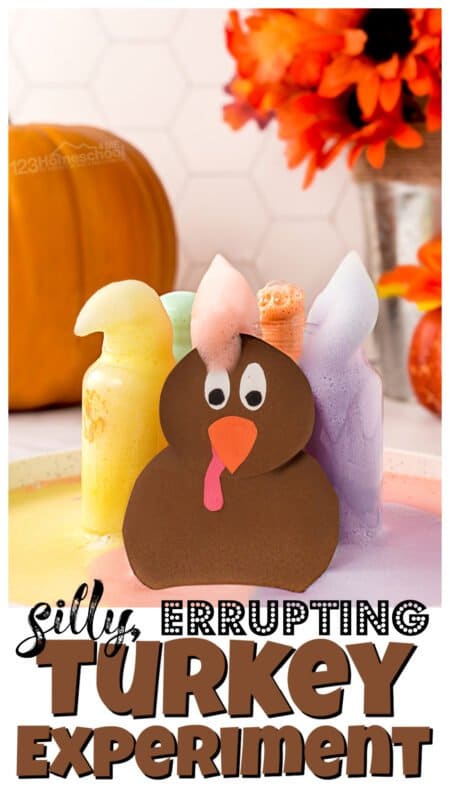 Your children will love this easy and exciting turkey feather thanksgiving science experiment. This science experiment craft is perfect for kids ages ranging from toddler all the way to fifth grade.
This is a fun little Thanksgiving themed science experiment that you can add to your science lessons near Thanksgiving time to make it a fun way for the kids to celebrate the holiday.
Start first by making and decorating a turkey out of construction paper. You can make a construction paper looking turkey by using specific colored paper like brown, orange, and yellow for example.
You can also sticky googly eyes on the turkey's face for decoration if you have some. Use crayons to color on your turkey to make it unique.
Some things to be ready to have for this science activity craft are plastic empty bottles, food coloring, hydrogen peroxide, rapid yeast, and dish soap.
Check out the link for a clear list of everything that you will need and how much of it for this low preparation, easy turkey feather science experiment for kids.
Follow the directions given on the link to watch the feathers grow from your turkey. This science project works great in a classroom for students or to use for teaching at home as well.
Looking for more great free Thanksgiving themed activities and crafts? Check out these links below.
CLICK HERE for hundreds of free homeschool printables
Be sure to follow the Free Homeschool Printables and Worksheets board on Pinterest!
The following two tabs change content below.
Latest posts by Isa Fernandez (see all)