Have fun while playing and learning visual spatial reasoning with this great free printable puzzle activity for kids.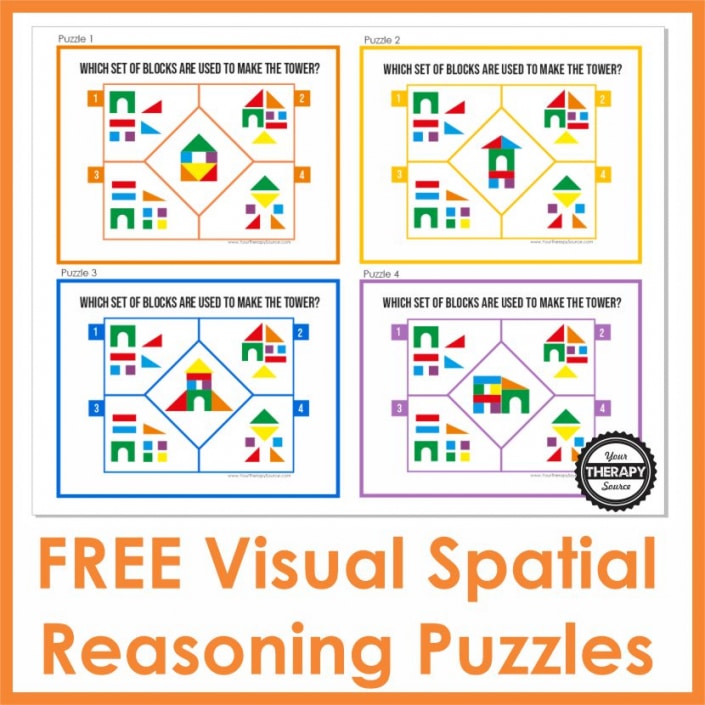 Check out this link for a free and fun visual spatial reasoning puzzle for kids to do at home or in class. Kids can have fun while they learn with neat activity ideas like these. Turn learning into puzzle solving together with this fun game.
Spatial intelligence is important to build when you live in a three dimensional world. Helping to build strong spatial intelligence in kids at a young age helps when math starts getting harder as they get older.
If they're already doing spatial reasoning exercises as young students then when three dimensional shapes get introduced into their math later on they won't be so intimidated, they'll realize it's something that they already know.
Activities like this make kids use their visual perception to think about spatial reasoning. After printing this free download, ask your student which set of blocks on the page are used to make the tower pictured in the center.
Identify the specific shapes and colors of the blocks to tell whether or not those group of blocks could make up the block tower in the center of the pages.
Are you looking for more free spatial reasoning puzzles for kids? Check out these links below.
CLICK HERE for hundreds of free homeschool printables
Be sure to follow the Free Homeschool Printables and Worksheets board on Pinterest!
The following two tabs change content below.
Latest posts by Isa Fernandez (see all)