Have fun and enjoy these solar system themed worksheet pages just for your kids who are curious and want to know more or for adding to science study lesson plans.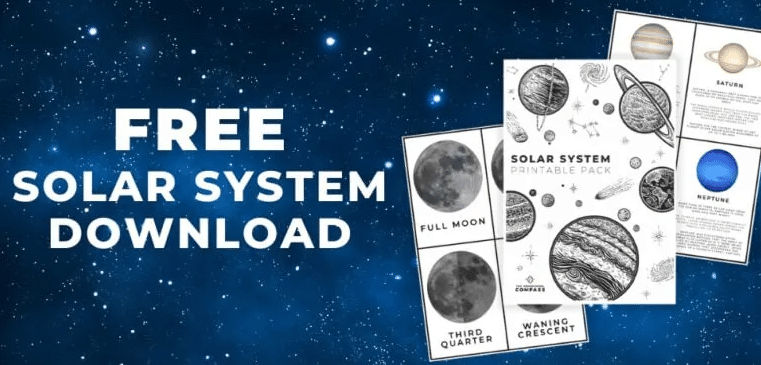 Kids love learning about space and the solar system and are curious by nature. Let your students enjoy learning about the solar system with this free to print pack of worksheet pages that you can use for fun or add to any kind of current science study lesson plans in school this year.
Included with this wonderful free to print pack of solar system worksheet pages are planet fact cards, moon phase flashcards, flash cards for counting, writing prompts, puzzle activities, and handwriting worksheets.
These are perfect pages for learning more about what's in our solar system, along with other kinds of study practice for your kids to work on in school. They're great for kids in multiple grade levels which works well with teaching multiple kids at one time whether they're all siblings at home learning or teaching a class of students together.
The worksheets and cards to print and cut out include illustrations of different planets and the moon phases to give kids a visual learning experience to go along with what they're reading to give them a better understanding.
Check out these links below for more free printable science and space worksheets.
The following two tabs change content below.
Latest posts by Isa Fernandez (see all)