Enjoy using this fun and free printable helpful roman numeral game to help your kids learn and remember the different roman numeral meanings.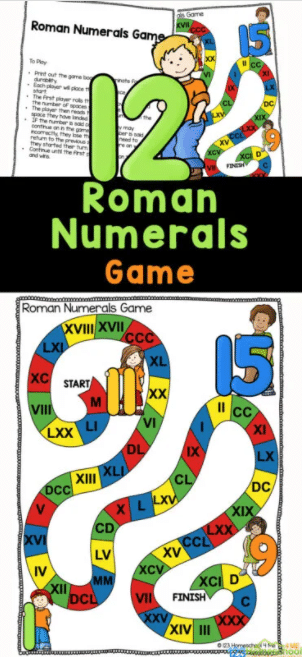 Turning learning into a game makes learning new concepts easier and more fun for your students. And when they're having fun they're more likely to better understand and remember what they learned too.
Check out this free printable roman numeral game that you can print off for your students to use at home or in a classroom full of students that can play together. Get the whole family together to play a game and support your children learning what the roman numerals mean and stand for.
Included in this free printable set is the roman numerals game as well as clear instructions to read and follow to get the most out of the game.
This is the perfect fun and free printable learning numbers activity for your early elementary aged students in second to fifth grade.
It's best recommended to print out this game on cardstock if you have the option to for the best results. If not you can print it on paper too.
Make sure to have dice and game pieces ready to play with this free printable roman numeral game.
Check out these links below for more free printable worksheets for kids.
CLICK HERE for hundreds of free homeschool printables
Be sure to follow the Free Homeschool Printables and Worksheets board on Pinterest!
The following two tabs change content below.
Latest posts by Isa Fernandez (see all)