Go over the number twenty with your younger students practicing counting and learning their numbers with these super fun and free to print number twenty themed activity learning worksheet pages.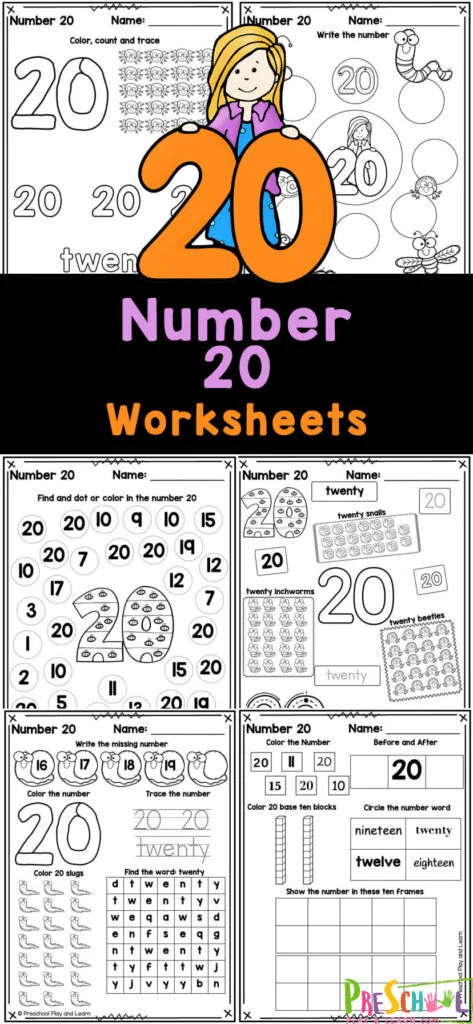 There are tons of different types of fun number twenty activity learning pages for you and your students to be able to go through together and select which ones you're most excited to try out using first.
These are the perfect number twenty themed activity learning pages to be able to conveniently have on hand for extra practice and review purposes. It's super helpful to have number themed worksheet pages available to use with your younger students who are beginning to learn how to count. If they have visual learning pages for each number they'll be able to learn number recognition way sooner.
Not only are these excellent free to print number twenty themed worksheets fun for kids to be able to enjoy doing but they're also educational at the time all while being something that your students get to have to look forward to doing.
All pages print out in black and white which is a plus for further saving money on printing costs as well as makes sure to give children plenty of coloring page opportunities where they can use their most favorite colored crayons, markers, or colored pencils on the pages.
Check out these links below for more free printable number worksheets.
Find more FREE Homeschool Printables & Worksheets on our Pinterest boards!
The following two tabs change content below.
Latest posts by Isa Fernandez (see all)