Make learning fun and easy for your kids by using the help of this awesome, easy to download and use, and free to print number twelve themed worksheet pages perfect for students in preschool, pre-k, and kindergarten ages.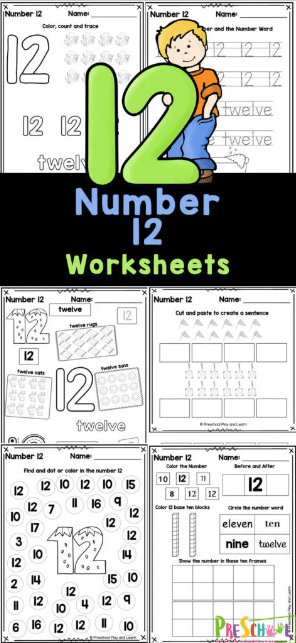 Whether you choose to teach your kids one-on-one style from being in the comfort and privacy of your own home, or if you teach a larger classroom full of students who are all learning at the same time, these number twelve free to print learning activity worksheets are perfect for you with all occasions.
Use your most favorite colored crayons, markers, colored pencils, or whatever else it is that you have and prefer using to color and decorate these super awesome, fun, and free to print number twelve themed learning activity worksheet pages to make learning time even more fun for your kids.
In the case that you are using these fun and free to print bundle of number twelve learning activity pages to teach a whole classroom full of students it will be helpful that there is a part of the page at the top for your kids to be able to write their names on so there's no mixing up who's page belongs to whom.
Check out these links below for more free printable number learning pages.
The following two tabs change content below.
Latest posts by Isa Fernandez (see all)